Liverpool 4-3 Man City, Salah, Sanchez & Kane - 5 Premier League talking points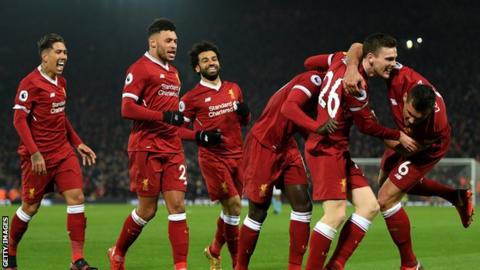 It was another dramatic weekend in the English Premier League - here BBC Sport looks at five of the biggest talking points.
The match of the season took place at Anfield
Liverpool v Manchester City was billed as one of the games of the season and it did not disappoint, becoming an instant Premier League classic.
Seven goals including a brilliant 30-metre chip from Egyptian striker Mohamed Salah saw Liverpool survive a late fightback to win 4-3 on Sunday.
"That is how football can look if two teams combine quality, skills with attitude," said Liverpool's manager Jurgen Klopp.
It was Liverpool's first match since selling star midfielder Philippe Coutinho to Spanish giants Barcelona, but they didn't seem to miss him.
All three of their forward line scored - Salah, Roberto Firmino and Sadio Mane - as the game went from 1-1 to 4-1 in the space of nine minutes.
City hit back with two goals in the last six minutes, but still suffered a first defeat of the season.
Pep Guardiola's side still have a big lead in the Premier League table, they are favourites for the Uefa Champions League and are hoping to win four trophies this season.
But a very poor defensive performance - with several mistakes - will have the City manager worried.
City's dream of an unbeaten season is over
Manchester City are almost certain to win the Premier League this season, despite the thrilling 4-3 defeat at Liverpool.
They are 15 points clear in the table, with 15 games left. To throw the title away now, they would have to lose at least five of their remaining games AND see one of their rivals win every game until the rest of the season. That's highly unlikely.
However, the defeat at Liverpool means their bid to go an entire Premier League season without losing has come to an end.
Arsenal's "Invincibles" team from the 2003-04 season are still the only side to go a full Premier League season unbeaten, and former player Lauren, who was part of that side, was one of those who tweeted his delight at City's defeat.
Alexis Sanchez is going to be the story of the transfer window
Manchester City? Manchester United? Paris St-Germain? Where will Alexis Sanchez be playing his football by the time the Premier League transfer window closes on 31 January?
Arsenal's Chilean forward is one of the Premier League's best players but he is unhappy at the London club.
Sanchez, 29, could move on a free transfer in the summer when his contract expires, so this is Arsenal's last chance to get some money for him.
For a long time, it seemed certain that he would move to league leaders Manchester City, but rivals Manchester United have entered the race and French giants PSG are said to be interested.
Sanchez was left out of the Arsenal team for his side's 2-1 defeat at Bournemouth on Sunday and his manager Arsene Wenger said a decision on Sanchez's future would be made in the next 48 hours. Watch this space.
It's Harry Kane v Mohamed Salah in the race to be top scorer
Saturday was all about Tottenham's England international striker Harry Kane as he broke another record - this time becoming his club's all-time top scorer in the Premier League with 98 goals.
That put Kane, who has finished as top scorer in the last two Premier League seasons, on 20 league goals for the season after 23 games.
His closest rival is Liverpool's Mohammed Salah and the Egyptian rose to the challenge, scoring on Sunday in the 4-3 win over Manchester City.
Salah, who is having an incredible debut season at Liverpool since arriving from Italian side Roma in the summer, is now on 18 Premier League goals.
With 15 games left this season, the race to be top scorer is going to be an exciting one.
Everton's players are in their manager's bad books
"Undisciplined", "shocked", "out of order".
It's not often a football manager criticises his players so openly, but that is what Everton's Sam Allardyce did after his team's 4-0 loss at Tottenham on Saturday.
Allardyce called his players' performance "a collapse of organisation and professionalism".
"It's out of order," he added. "It shocked me. I've got to cut it out."
The former England manager has now seen his side fail to win any of their past six games and they have managed only four shots on target in the past five games.
You can be sure Everton's players will be putting in extra hours on the training ground to turn things round for their manager.