Ryan Giggs: Blame Ferguson for missed friendlies - Clayton Blackmore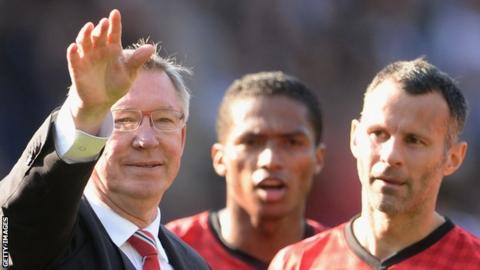 Former Manchester United defender Clayton Blackmore says it was Sir Alex Ferguson, not Ryan Giggs, who was responsible for Giggs missing so many Wales friendlies.
The ex-United wing will be unveiled as Wales' new boss today after winning 64 caps between 1991 and 2007, but some fans are against his appointment.
"I need to put something to rest that everybody is going on about, 'he didn't turn up for friendlies," he said.
"He didn't have much choice with that."
Blackmore insists that Giggs, a teammate of his at United between 1990-94, is a proud Welshman who missed friendlies on the insistence of his manager.
"I was there when Sir Alex told me and Mark Hughes 'yous two can go, but Ryan's not going' because he's got to look after him," Blackmore told BBC Sport Wales.
"He was a young lad and in friendlies you never use him.
"We were happy with that. We needed him for the big tournament games."
Blackmore believes Giggs' education at United, under Ferguson, make him the ideal managerial candidate to succeed Chris Coleman.
"Sir Alex was the best and Ryan's grown up among a lot of very, very good footballers," he said.
"He knows what their temperaments are like. He knows how Sir Alex controlled them.
"He knows everything - he's probably more qualified than anybody else in football to be a manager.
"He's had a little taste with United. For me, I thought he should have got the job.
"If anybody deserved a shot at the Manchester United job, it was Ryan - 25 years at the club and he was tearing teams apart.
"The thing is with managers, they need to know how to break a team down and Ryan was the best at it."
'Get behind Giggs'
Former Wales and United midfielder Mickey Thomas also believes the Welsh public should get behind their name manager.
"He deserves a chance. He's played 64 times for his country," he told BBC Sport Wales.
"I think the experience he's gained from playing at one of the biggest clubs in the world - why not give him the opportunity?
"I'm disappointed that we're even arguing about Ryan Giggs, whether fans want him or not.
"Because the simple fact is he's a man that loves Welsh football.
"Of course there's a stigma against him saying he didn't turn up for friendlies, but if I had been a former player in a dressing room and Ryan Giggs hadn't turned up for friendlies, it wouldn't bother me one bit.
"He's turned up for the most important games."
Thomas is worried that anti-Giggs sentiments will impact the Wales team more than the new manager.
"Without doubt Wales is a massive job. What they've done in the past with Chris Coleman, they want to continue that - I just think he needs that opportunity," he said.
"He has got that experience. He has been with the best manager in the world. He's played in the biggest games in the world.
"He's had all that experience. When he walks in that dressing room, make no question about media speculation - he'll get that respect from the players, no question about that.
"Those Welsh fans who don't want to go when Ryan Giggs is in charge, you're not going to be missed because your negativity is not just going to affect Ryan Giggs, it's going to affect the Welsh national team.
"So if you're passionate about your country, get behind Ryan Giggs."