Kilmarnock: Steve Clarke impressed with Scottish game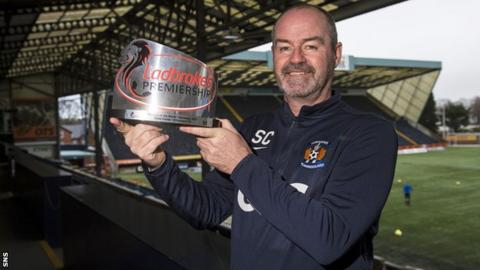 Kilmarnock manager Steve Clarke insists Scottish football is in a far better state than many observers think.
Former West Brom and Reading boss Clarke, who took over at Killie in October, was named Premiership manager of the month for December.
And he has been encouraged by what he has seen for far.
"Scottish football is on a little upward curve at the moment and it's up to everybody involved in the game to continue that," Clarke said.
"Scottish football is quite good at knocking itself. There is a lot of good things in Scottish football that people don't talk about. There is a great honesty to the game up here. There is a lot of hard work that goes in and there is no shortage of talent either.
"There are plenty of good managers up here and plenty of good players.
"There is a decent standard, good level, very competitive matches and I've enjoyed it since I've been here. Obviously I've enjoyed it more because the players here at Kilmarnock have responded well to the methods that I've brought in, they've responded well to the little challenges we've set them.
"It is a very competitive division, I think you can see that in the points totals. We're mid-table but we're not too far from the bottom, we're also not too far off the top four."
Clarke was named manager of the month after guiding Killie to an unbeaten December that included four wins and two draws.
Killie were bottom of the table when previous manager Lee McCulloch left, but are now sixth in the table.
And Clarke says his manager award is recognition of the wider work being done at Rugby Park.
"It's important I don't stand here and get big headed about getting the award as it's not my award, it's an award for Kilmarnock Football Club, and everybody deserves it for the job they did in December," said Clarke, who also had spells as assistant manager to Ruud Gullit and Jose Mourinho at Chelsea, as well as Kenny Dalglish at Liverpool.
"It's an award for everyone at the club and really, because we've been really consistent through December, everyone has reached a high standard.
"We've had a lot of positive results and we have to continue that in the second half of the season.
"When I came here the target was to finish 10th, it's probably still the target if we are being honest about it. But hopefully slowly over the coming weeks and months we can start to build something and try and improve the squad a little bit if possible and try and be more competitive towards the top half of the table if possible."