Estoril v Porto abandoned after cracks appear in stadium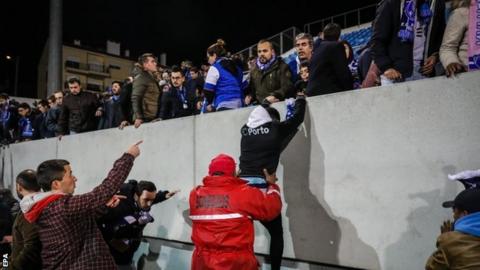 A Portuguese League match was abandoned at half-time and spectators evacuated on to the pitch after cracks appeared in a stand.
Estoril were 1-0 up at home to Porto on Monday when away fans were ordered from one of the stands at the Antonio Coimbra da Mota Stadium.
According to broadcaster Sport TV one of the stand pillars had cracks of around 2cm.
The second half of the match will be played at a later date.
The stadium, which is 25km from Lisbon, was opened in 1939 and has a capacity of 8,000.
Around 2,500 Porto fans were at the match.
A statement on the Estoril website read: "After meeting the entities of Estoril Praia, FC Porto, Liga Portugal and Security Forces, it was understood that the security conditions were not met for the game to continue.
"The interruption is linked to the fact that part of the north side of the Estadio Antonio Coimbra da Mota had damage in the middle, which caused some alarm and that led the authorities to safely evacuate the entire stand in question.
"In due course, the fans who have come to watch the game will be informed about how they will be compensated for their tickets."