Henrikh Mkhitaryan: No agreement for Arsenal move in Alexis Sanchez deal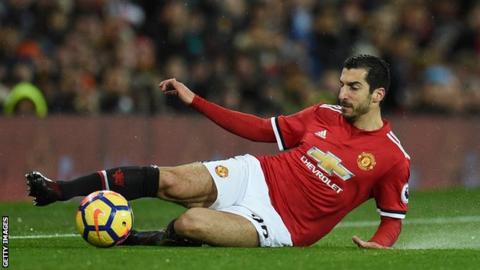 There is no agreement in place for Manchester United forward Henrikh Mkhitaryan to join Arsenal in exchange for Alexis Sanchez, a source close to Mkhitaryan has told the BBC.
It is understood Sanchez has agreed personal terms with United.
But neither Arsenal nor United will sanction the deal without Mkhitaryan travelling in the opposite direction.
The 28-year-old Armenian is believed to be deliberating over the move and is in no rush to make a final decision.
Sources with knowledge of the situation say they understand Chelsea are also interested in signing Sanchez.
But when asked if this was the case by reporters on Tuesday, Chelsea boss Antonio Conte said: "I don't know but I don't think so."
United pipped Arsenal to the signature of Mkhitaryan from Borussia Dortmund for £26m in July 2016.
He is not demanding to leave Old Trafford at all costs but has a different footballing philosophy to manager Jose Mourinho and that has raised the possibility of his departure.
There are said to be alternative options on the table and that it is not entirely out of the question that he opts to stay at United, where he is under contract until 2020.
It is also understood Dortmund have ruled out making a bid to re-sign Mkhitaryan.
The German side inquired about Mkhitaryan before the transfer window opened but they felt the transfer fee was excessive.
While they have previously bought back a number of players who have left the club, including former Manchester United player Shinji Kagawa, it is understood they have no intention of bidding for Mkhitaryan.
In addition, Dortmund have had no offer from Arsenal for Gabon striker Pierre-Emerick Aubameyang.
The Gunners are reported to be interested in Aubameyang, who was dropped at the weekend for disciplinary reasons.