'I always think there's a chance' - Fraserburgh boss prepares for Rangers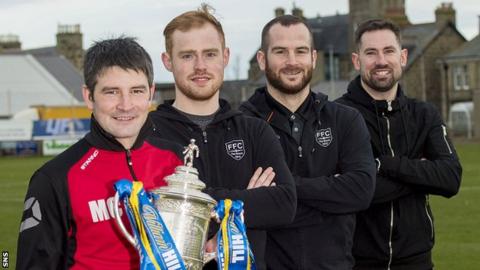 Scottish Cup: Fraserburgh v Rangers
Venue: Bellslea Park Date: Sunday, 21 January Kick-off: 12:00 GMT
Coverage: Listen on BBC Radio Scotland, live text commentary on the BBC Sport website
"Dreams, maybe sometimes, do come true."
It could be one of the many motivational slogans Fraserburgh manager Mark Cowie has adorning the home dressing room at the Highland League club's Bellslea Park.
But it's not. It's the thirty-something player-manager's considered view of his team's chances of knocking Rangers out of the Scottish Cup there on Sunday.
"I'm a believer," he said. "I always think there's a chance. That's why we're in football, that's why everybody loves the game.
"That's why all the media has descended on us. It's not because we're Fraserburgh that everyone's come here, it's because there is a chance there could be an upset. It doesn't happen a lot but it does happen, so everyone here's hoping and praying, apart from Rangers that is, for an upset, for that fairytale and make sure that dreams, maybe sometimes, do come true."
The boss of 'the Broch' - Gaelic for 'the Burgh' - may be a believer, but he's also a realist.
"All I really want is for at the end of the game people to say we are a good side and that we are hard working and we gave it a real go," he said. "Regardless of the score I just want Fraserburgh people to be proud of the team."
One of the messages in white block capitals on a black background hanging above the dressing room door reads: "One team, one family, play for the badge."
That could refer to the Cowie family.
Mark's bothers, Ryan and Dean, also play for Fraserburgh.
"They know that once we enter the Bellslea, it's professional," he explained. "They've both had spells on the sidelines. In any case our father's harsher than anyone on the three of us."
The Cowie brothers' dad will be among an 1,800-strong sell-out crowd at the Sunday lunchtime fourth-round tie.
Ryan said: "Most of the family have been lucky enough to get tickets, whether in hospitality or on the terraces, so they're all looking forward to it, but to be fair to them they come to most games."
No post-match family get-together has been arranged - so far, that is.
And Dean said: "Hopefully we get a result then it'll be celebrations, but win, lose or draw it's going to be a great day for the club and everyone involved in it, so we've just got to give it our all and just see what happens on the day."
Dean is the only Cowie brother to have played against Rangers. He was a member of the Peterhead team that beat them in 2013 when both sides were in what was known as the Third Division, now League Two.
"The pressure's on Rangers, we've got no pressure on us and the conditions will favour us," Dean explained. "We've just got to give it our all and have no fear."
If the Broch do get the better of Graeme Murty's team on Sunday it will not be the first time there's been a cup upset involving the Aberdeenshire side, as Mark points out.
"People refer back to 1959 when they beat Dundee, hopefully we can give them another memory for years to come," added the manager. "It's just a great occasion for the whole town."
Dreams, as Mark says, maybe do sometimes come true.