Portsmouth: Danny Rose confident of agreeing new deal despite leg break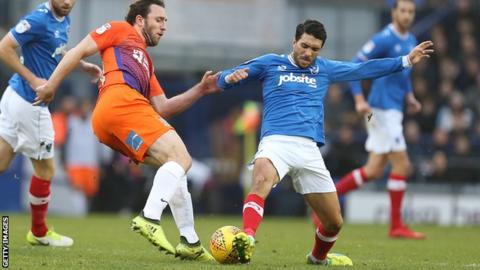 Portsmouth midfielder Danny Rose is hopeful he can agree a new contract with the club by the end of the month.
The 29 year-old will miss the rest of the season after breaking his leg against Northampton over Christmas.
Rose is stepping up his rehabilitation in the gym following surgery at the start of January.
"It's a nice feeling to know I'm still wanted at the club," he told BBC South Today. "Talks are ongoing and very positive at the moment."
"We're hoping to have something resolved in the next couple of weeks and I can only thank the club for keeping faith that I'll make a full recovery and be just as useful next season."
Rose needed a nail and screws inserted in his left tibia following the injury on 30 December. It was sustained as he competed for a drop ball with Northampton midfielder John-Joe O'Toole.
"It was very painful at the time and I remember everything about the incident," he said.
"It was nothing like I've ever felt before and I knew I wouldn't be able to carry on. I knew something wasn't right and it was excruciating pain at the time.
"In future, I think if a referee decides a drop ball's the way to restart, I'll leave it to someone else or just kick the ball straight back."