Southport FC: Police investigate attack on player in Stockport match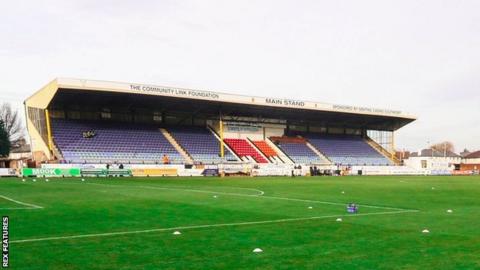 Police have begun an enquiry after a Southport player was attacked during Saturday's National League North home match with Stockport.
Southport substitute Jacques Kpohomou was kicked when a group of spectators went on to the pitch, reported the Southport Visiter.
It is not clear whether the spectators were fans of either side.
Southport said "multiple clear images of the incident are available to the police" from CCTV footage.
The player involved was not injured and Merseyside Police said a group of supporters were ejected from the ground by security before officers arrived.
"In the second half of today's game against Stockport County, a spectator encroached on to the field of play and attacked a Southport player who was warming up on the touchline at the time of the incident," Southport said in a statement.
"The club takes the safety of our staff, our players, our volunteers and our supporters seriously. The club believes this was an isolated incident. However in light of today's events, a full review of safety procedures will be conducted."
The Sandgrounders beat Stockport 3-1 at the Merseyrail Community Stadium.