Do Liverpool have a weakness Swans can exploit? Carlos Carvalhal believes so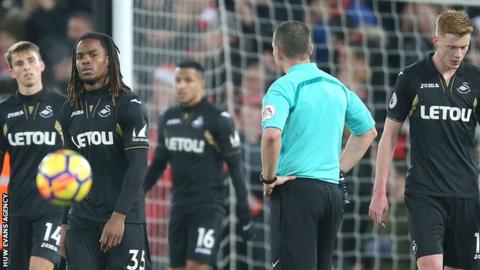 Swansea City boss Carlos Carvalhal says Liverpool might have the best attacking talent in the Premier League, but hopes to exploit their defensive weaknesses when they visit the Liberty Stadium on Monday.
Jurgen Klopp's side are unbeaten since October and stunned previously unbeaten league leaders Manchester City last time out with a 4-3 win at Anfield.
Swansea themselves were defeated 5-0 by Liverpool in the reverse fixture in December, in Paul Clement's last match in charge before Carvalhal was announced as his successor.
"The best teams in the world have very few weak points, but they do have them," Carvalhal explained.
Improvements since December
The Anfield hammering might have put Carvalhal - who watched from the directors' box - off the opportunity to take over, but he believes his side are vastly improved from that day.
"That game was a little strange because the team conceded two or three goals with the same mistakes they've been doing before," the Portuguese said.
"Even when I arrived they were still making those mistakes, but now they've changed and are much better.
"We can't repeat those mistakes. If you remember the first goal it was in a transfer situation where they built between attack and midfield.
"The second was the ball in midfield again. In general the team was organised, but those two goals killed the game.
"After that it was very difficult to fight in that game. It was a lesson and I've seen all the games. There are things we must learn to not be in trouble again on Monday. I can assure you we'll give a good answer on Monday."
The former Sheffield Wednesday manager says the defeat at Liverpool never led to any consideration of changing his mind about whether to take the job, with Swansea bottom of the Premier League table.
"I felt the confidence and dynamic take a change with more organisation and sometimes the players give an extra 20 or 30%," he said.
"The dynamic has changed and we've improved, [Jordan] Ayew is doing that at the moment. The players now have more confidence, more organisation. We try to do this with all the players and will it be easy to stay in the Premier? Let's see."
Finding Liverpool's weaknesses
Despite Liverpool being the in-form side in the Premier League, Carvalhal says that even their impressive win over Manchester City showed potential weaknesses for the Swans to exploit.
However, the ex-Besiktas boss is unsure whether their current attacking talent is the best in the Premier League.
"They have very good players in attack - but if you ask who is the best it is like when people ask me who is the best, Messi or Ronaldo?
"In the Premier League, you can say Tottenham have very good attackers.
"They have a big threat in their offensive dynamic. It is the same with Chelsea, Manchester United and Manchester City.
"These clubs have the best players in the world.
"Against Man City, they score four but they let in three. They have strong points, but a team that lets in three has weak points also.
"It is not a team that wins 2-0, 3-0, 4-0, so I look at the game like that. If a team scores four, let's see how they do it and what type of dynamic they have.
"How can we block them when they have the ball?
"That is our job, we must defend when they have the ball and attack when we have it. So let's try and exploit that and hide the strong points that they do have.
"I must be realistic of the point where we are in this moment and the things we are doing to progress the team.
"Between where we arrive and where we want to go there is something very important in this process - and that is the results. We need points."