Scotland friendlies 'not ideal' for Celtic players, says Chris Davies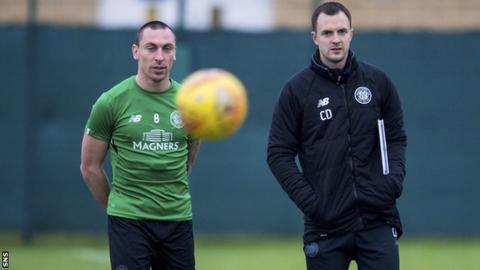 Celtic assistant manager Chris Davies says Scotland's end-of-season friendlies in South America are "not ideal timing".
If the champions successfully defend their Premiership title, they potentially face eight Champions League qualifying ties during the summer.
Scotland are playing Peru in Lima on 29 May and an unconfirmed opponent in Mexico City on 2 June.
"[The players] need a break," Davies said.
"You cannot play 12 months non-stop and expect at a big club the level of intensity of the Champions League. It's impossible.
"We know when we're back, hopefully after having been in the Scottish Cup final [on 19 May]."
Celtic's Swedish defender, Mikael Lustig, is likely to be at the World Cup finals in Russia during the summer, but Davies said the club will have plans in place to ensure that he receives enough rest to keep playing at a high intensity.
"We did that with [Australia's] Tom Rogic [after last year's Confederations Cup], if you remember, and we'll do that with Mikael," Davies said.
"We've always managed that, we've put a lot of focus on making sure they get a rest at some point in the year. You can do it, but your form will suffer and that's not fair on the player or the team."
Celtic and Scotland captain Scott Brown would not be drawn on his own international future, but agreed with Davies that the timing of the friendlies was awkward for Celtic players.
Brown and club-mates Stuart Armstrong, James Forrest, Craig Gordon, Leigh Griffiths and Callum McGregor all played for Scotland in 2017.
"I'm sure there will be a new [Scotland] manager in charge and we'll sit down and chat and see what's happening," Brown said.
"The holiday time is the huge one. Last year we got six days, came back in and went straight into Champions League qualifiers.
"It's not so good for the holiday, but it's an opportunity to play for Scotland. It will be good for the new manager, but maybe not so good for the Celtic lads."