Michael O'Neill: Scottish FA 'naive' in failed pursuit of NI boss - Michael Stewart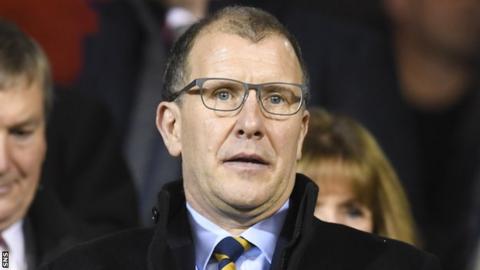 The Scottish FA was "naive" in the way it pursued Michael O'Neill for the national manager's job, says former Scotland midfielder Michael Stewart.
The Northern Ireland boss was offered the vacant Scotland job after talks last week, three months after Gordon Strachan's departure.
But after considering the opportunity, O'Neill turned the SFA down.
"The whole thing hasn't been handled particularly well," ex-Hearts and Hibs midfielder Stewart told BBC Scotland.
"It shows a poor tactical approach from [chief executive] Stewart Regan and the SFA."
A Scottish FA working party was established to assess potential candidates, with O'Neill quickly identified as the governing body's preferred candidate.
SFA chief executive Regan made an official approach to the Irish Football Association in November, but did not reach an agreement to speak to O'Neill until last week.
The 48-year-old was also offered a contract extension by the IFA, to run until 2024 on improved terms.
"The tactics have been a bit naïve," Stewart said. "They were so blatant in their pursuit of O'Neill that anyone who comes in next knows they are not the number one choice.
"Time should have taken with respect to Gordon Strachan - it wasn't a snap decision to be made then.
"They were quick with that but this has been drawn out. It was quite obvious they wanted O'Neill but to let it drag on so long just made everything seem a bit contradictory.
"It strengthened the hand of O'Neill, who would probably have got a far better deal with Northern Ireland anyway after taking them to the Euros and almost to the World Cup."
Former Scotland defender David Weir says the SFA shouldn't be "overly criticised" since they made it clear to O'Neill how keen they were to appoint him.
Now, Weir believes they should consider Scotland under-21 coach Scot Gemmill as a candidate to succeed Strachan.
"Scot Gemmill is doing a great job with the under-21s, he's got tournament experience and other counties - Germany, Spain, France - have shown that's a pathway going from the 21s to the main job," Weir said.
"He must be a candidate, but there are a lot of managers out there who have had previous experience of different places who are attractive as well."