John Hartson backs Osian Roberts for Wales, but does Ryan Giggs?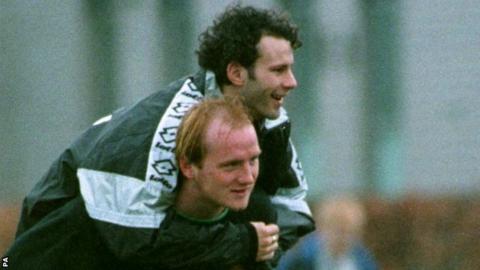 Former Wales striker John Hartson will be "surprised" if new national team manager Ryan Giggs does not include Osian Roberts in his backroom staff.
But Hartson believes his former Wales team-mate Giggs may omit Roberts to prove he can make "big decisions".
Roberts was assistant to Giggs' predecessor Chris Coleman and is the Football Association of Wales' technical director.
"Ryan Giggs, is he stamping his authority down?" pondered Hartson.
"Is he saying 'I can make big decisions? Anybody think I'm a shrinking violet, I don't make big decisions'?
"This'll be a huge one if he doesn't involve Osh [Roberts]."
Roberts 'a fabulous, fantastic coach'
Hartson said that had he been offered the job of Wales boss, Roberts - who was at Coleman's side as they reached the Euro 2016 semi-finals - would have been his first appointment.
"He's a fabulous coach, fantastic coach, puts on great sessions, very, very well-liked by the players - that's what I would have done," Hartson told BBC Sport Wales.
"It's Ryan's prerogative to bring in anybody he wants.
"I'm sure he's been given carte blanche by the FAW, [chief executive] Jonathan Ford in particular, to bring in his own people.
"I'm very surprised that as part of the deal, Osian's not already set in stone and a part of Ryan Giggs' set-up.
"He may well still be asked to do that. But I'm surprised if he doesn't use Osian's knowledge [of] the system, the formation."
Roberts has said he is in talks with Giggs and there are "no sticking points" between them.
Fans want Roberts to stay on
Hartson added: "In one way if he [Giggs] doesn't bring Osian in you have to admire Ryan's honesty and the fact he wants to do it his own way.
"If he fails he can look in the mirror and say, 'do you know what, I did it my way. I don't want to do it the same way as Chris Coleman. I'm now the manager - I want to do it the way I see fit'.
"So you can look at it that way, but personally I think Osian Roberts has a lot to offer this group of Welsh players, having been with them for so long - they have total respect for Osh right throughout the camp.
"Fans feel the same way."