Scotland: Stewart Regan to face SFA board questions on manager search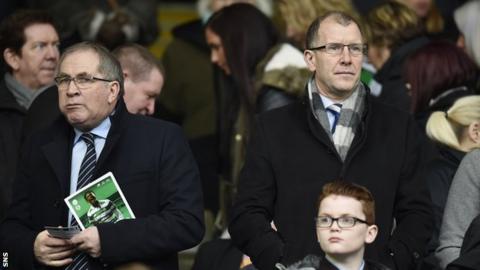 Scottish FA chief executive Stewart Regan is to face tough questions from some unhappy board members after the failure to secure Michael O'Neill as the next Scotland manager.
Regan, who led the search for Gordon Strachan's successor, will attend a board meeting at Hampden next week.
O'Neill was the SFA's preferred candidate, but rejected their offer.
Former SFA chief executive Gordon Smith says the situation has been an "embarrassment".
Regan is currently in Switzerland for Wednesday's Nations League draw, but released a statement following O'Neill's decision to say that discussions had been "positive and cordial" and wishing O'Neill well.
Scotland have two friendly matches arranged in March, at home to Costa Rica on 23 March and away to Hungary four days later.
Smith believes the pursuit of O'Neill was badly handled by the SFA, but also that it should be a straightforward task for the organisation to identify the man they want to become the new national manager, if they have a shortlist of candidates.
"By the time you make the offer, you should almost have it tied up," Smith said. "There will be a lot of criticism of the SFA.
"If you're not going to offer as good a contract as his current employers, what's the point in going any further? Michael O'Neill has enhanced his reputation. He has had a great deal of publicity for this and guys at the highest level of the game will have seen that Scotland wanted him and that he's turned him down. The Irish people will be delighted.
"All the [SFA] have out of it is an embarrassment. People are saying it's a mess.
"The SFA should have said they had a number of candidates and been speaking to him just as one candidate, rather than making it clear that he's the only one and others were written off.
"If you have a list of people and the number one person says no then you say, 'ok, who was second on that list?' That's normally what happens."