Hamilton: Martin Canning rates Greg Docherty as highly as past prodigies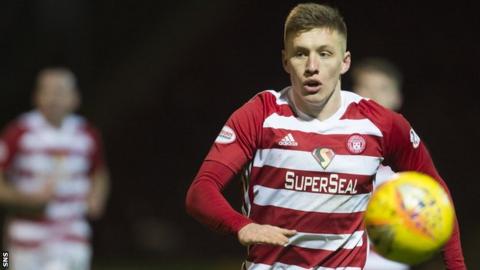 Hamilton Accies' Martin Canning rates midfielder Greg Docherty as highly as English Premier League players James McCarthy and James McArthur.
The latter two came though Hamilton's youth ranks before leaving for England.
Canning says Docherty, who has been the subject of a bid from Rangers, compares favourably to them.
"He's as good as those two, particularly James McArthur. He's similar, with his strength and power," manager Canning said.
"He's definitely on par with those two and can kick-on again."
McCarthy left Hamilton for Wigan Athletic in 2009 and now plays for Everton - but broke his leg against West Bromwich Albion on Saturday - while McArthur left New Douglas Park for Wigan in 2010 and now plays for Crystal Palace.
Canning hopes to sign Mikel Miller from English non-league club Carshalton Athletic this week and also wants Docherty's situation clarified sooner rather than later, with the expectation that Rangers will return with another offer for the 21-year-old.
Docherty grew up a Rangers fan, but Canning said a deal will only be agreed if it suits Hamilton.
"Greg has two-and-a-half years left on his contract," he said.
"He's been well looked after here since he was eight or nine. Yeah, this is an opportunity for him to go to a big club, but it has to be right for Hamilton first and foremost.
"[Chairman] Ronnie [MacDonald] has always been very honest with the players. He'll never be difficult to deal with.
"The club takes great pleasure in how well the likes of the two James have done.
"But ultimately he is a businessman and the deal will have to be right for Hamilton.
"It's not a case that Greg supports the club so he will go regardless. That's not how business works."
Hamilton are three points behind sixth-placed Kilmarnock and host Hearts on Wednesday night, but Canning believes Docherty can still be an influential figure despite the transfer speculation.
Docherty missed Saturday's Scottish Cup 2-0 defeat by Motherwell with an ankle injury knock but is fit for the visit of Hearts.
"Of course I'd want it resolved as quick as we can - for both the club and Greg - but neither of us can control that right now, so we just have to focus on the jobs we have," Canning said.
"But Greg is a level-headed young guy. He's not the type to get his head turned.
"He knows he'll have to work away if he wants to get to the top level."