Spartak Moscow: Russian club's head of media fined for 'racist' tweet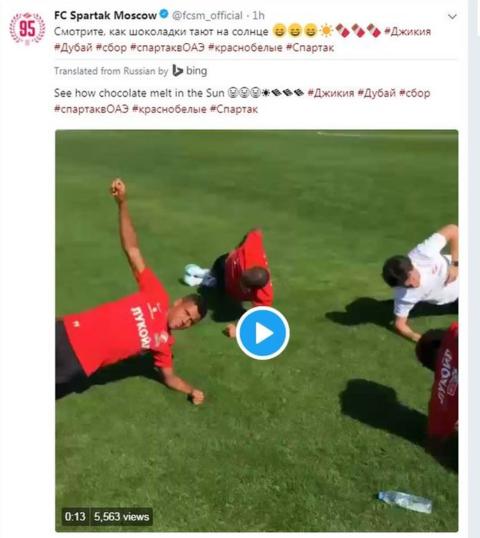 The Russian Football Union (RFU) has fined Spartak Moscow's head of media for a tweet containing "racist references".
Spartak tweeted a video of some black players training in sunny conditions with a message translating as "see how the chocolates melt in the sun".
Leonid Trakhtenberg has been fined 20,000 rubles (£253).
Georgi Dzhikiya - the player who posted the tweet - was let off with a reprimand.
It was decided Trakhtenberg was responsible for letting Dzhikiya - widely regarded as one of Russia's best defenders - take charge of the club's Twitter feed.
Dzhikiya and the club later apologised for the offence caused and the tweet was deleted.
Spartak later posted another video in which one of their black players, Fernando, denied there was any racism at the club.
Following the tweet, anti-discriminatory body Kick It Out said: "This social media post from the official account of Spartak Moscow only continues to highlight the prejudices towards black people in Russia.
"With the World Cup only a few months away, it is a reminder that Russia - as with the whole of football - has significant work to do to eradicate racism of all forms from the game."