Uefa considers imposing cap on agents' fees in bid for 'transparency'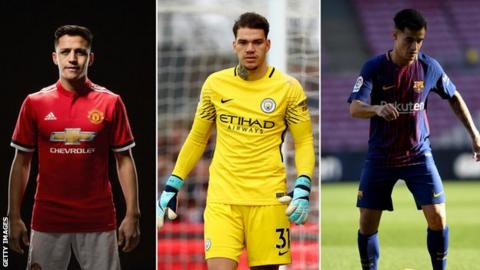 Uefa is considering imposing a cap on agents' fees following scrutiny of payments made to players' representatives.
It was found Premier League clubs paid £220m in agents' fees during the 2016-17 season - an increase of 38%.
Alexis Sanchez's agent, Fernando Felicevich, received a reported £15m in the Chile international's recent transfer to Manchester United.
Uefa will consider a cap in a bid to "introduce more transparency".
Last summer, Jorge Mendes - Cristiano Ronaldo's agent - took a £7m cut of the transfer fee Manchester City paid for goalkeeper Ederson.
Mino Raiola was reported to have received £23m from Paul Pogba's move from Juventus to Manchester United in 2016 while Kia Joorabchian is rumoured to have received a substantial amount after brokering Philippe Coutinho's recent move to Barcelona from Liverpool.
Uefa confirmed in a statement its Professional Football Strategy Group, which consists of key stakeholders in European football, had endorsed a strategy to "shape policy change... by potentially adding a cap on fees, introducing more transparency/accountability, and appropriate sanctions in case of infringement of the rules".