Leeds United: Consultation on change to club's crest to be reopened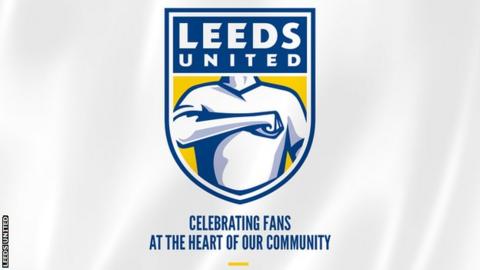 Leeds United have confirmed they will take another look at their new crest after it received widespread criticism.
The badge was described as "awful", "horrendous" and "shocking" by fans after it was unveiled on Wednesday.
"We need to reopen the consultation process," the club's managing director Angus Kinnear told BBC Radio Leeds.
"Because the direction is so distinctive and breaks with a lot of conventions, that consultation process hasn't gone deep enough."
In a club statement released on Thursday, the Championship club said they "appreciate the need to extend the consultation" and "will release more details in the process next week".
Within hours of the new crest being revealed, 51,000 people had signed an online petition to have the the badge changed.
It is set to mark the club's centenary in 2019 and be used from the start of next season.
The Championship club say more than 10,000 people were consulted during six months of research and it "represents the passion and the unique identity that runs deep through the club".
"I genuinely feel excited about the passion of Leeds fans. It's slightly unfortunate it's been demonstrated in this way but it reinforces what a big fanbase we are," Kinnear continued.
"Transparency has been at the heart of everything we do. We're not going to hide. We're big enough to take the feedback and engage with supporters and they should trust us to do the right thing."
Similarly, in 2013 Everton were forced to alter their redesign after fans complained about the removal of the club motto.