World Cup 2018: England fans apply for 26,670 tickets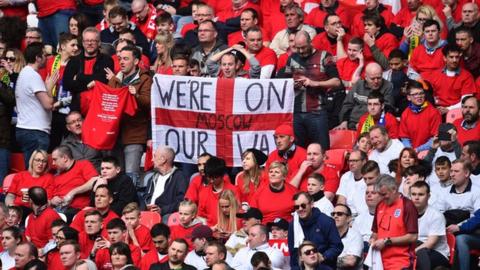 England fans have applied for 26,670 of the four million tickets requested before the World Cup in Russia.
Hosts Russia account for 55% of the applications, with England 15th overall in the second round of sales.
Germany, Argentina, Mexico, Brazil, Peru, Poland, Spain, Colombia, USA and the Netherlands top the table in terms of international demand.
England have been drawn in Group G at the tournament alongside Belgium, Panama and Tunisia.
The latest ticket sales window closes at the end of January, having opened at the start of December. Fans will be informed of the outcome of their applications by mid-March at the latest.
This represents the second of two sales periods, with any last-minute tickets going on sale in April.
In total, 4,021,211 tickets have been requested during the second phase.
A total of 2.5 million tickets will be made available for the 64 matches played in 12 different grounds located in 11 Russian cities.
Fifa sold 742,760 match tickets in the first round of sales, which took place before December's draw.