Cedric Bakambu's China deal may not be African record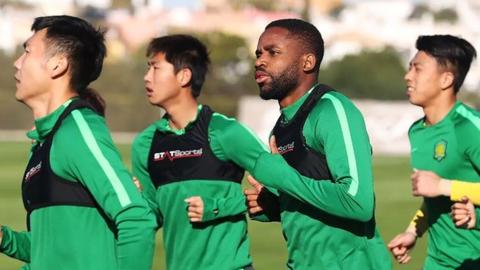 Cedric Bakambu's looming transfer to Beijing Guoan will not be an African record if the Chinese side can convince authorities the deal avoids tax rules.
The DR Congo striker triggered his release clause from Spain's Villareal when paying $50m, a sum that could double because of Chinese taxation.
"Guoan are trying to see if that falls outside the jurisdiction of the Chinese transfer system," said Bruno Leveel, who works closely with Bakambu.
Africa's transfer record is $67m.
"They are still in negotiation about the tax but as soon as they have a decision, the contract will become official," sports communication consultant Leveel, who works with Bakambu on image-related contracts, told BBC Sport.
Expecting the transfer to conclude "by the end of this weekend," Leveel says the Congolese international has already signed a five-year deal with Beijing Guoan as a free agent.
This week, the 26-year-old started training with his new team-mates as Beijing Guoan prepare in Lagos, Portugal, for the new Chinese season.
The club released those pictures even though the transfer is incomplete as they negotiate with Chinese authorities.
Last year, the Chinese FA ruled that clubs must pay 100% tax on signings in a bid to curb extravagant spending, with the extra funds going to the development of the local game.
Although Leveel's understanding is that Beijing Guoan provided the Congolese with the funds for his release, the Chinese club is hoping to find a potential loophole.
"Because Bakambu paid the release clause himself, it's not as if Beijing Guoan bought him for 40m Euros ($50m)," added Leveel.
"Beijing Guoan are negotiating with the authorities to see if they can reduce or entirely avoid paying this tax."
"If the club has to pay tax, the total of the transfer will be 80m Euros ($100m). If the club doesn't pay the tax, the transfer will be 40m."
A move worth 80m Euros - or $100m - would eclipse the $67m deal that will take Guinea's Naby Keita from German side Red Bull Leipzig to Liverpool later this year.
It would also smash the 47 million dollars the same Premier League side paid for both Egyptian Mohamed Salah and Senegal's Sadio Mane.
Earlier this month, Beijing Guoan appeared to distance themselves from any transfer when telling the Agence France Presse news agency that Bakambu had left Villareal, where he was contracted until 2022, for 'personal reasons'.
Last season, the club finished ninth in the 16-team Chinese Super League.
"Cedric wanted to participate in this new adventure and I think he will participate in the evolution of Chinese football," added Leveel.
"It's good to have players like Cedric who are a good age in a championship that wants to grow."
Bakambu had scored nine goals in 15 league starts for Villareal this season prior to his release.