England's Nations League match in Croatia will be behind closed doors
Last updated on .From the section England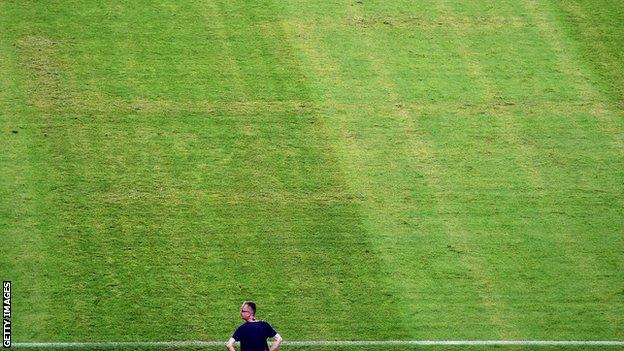 England's first away game in the Nations League against Croatia will be played behind closed doors, says Uefa.
The match is scheduled to take place 12 October.
Croatia served the first game of the ban against Bulgaria in October 2015 but they have not played any Uefa-sanctioned home games since then.
"Uefa can confirm that the Uefa Nations League group stage match between Croatia and England scheduled for 12 October 2018 will be played behind closed doors," said European football's governing body.
"This relates back to a decision taken by the Uefa control, ethics and disciplinary body on 23 July 2015 which ordered the Croatian Football Federation (HNS) to play its next two home matches in Uefa competition without supporters in the stadium."
England open their Nations League campaign against Spain in September before the trip to Croatia in their three-team group.
Croatia apologised for the swastika symbol being marked on the pitch against Italy and called it an act of "sabotage and a felony".
The game against Italy was already being played behind closed doors after Croatia were punished for racist chants by fans against Norway.
The swastika was seen during the first half and although ground staff at the stadium in Split tried to cover it up at half-time they were not successful.
Croatia were also deducted a point from their Euro 2016 qualifying tally as part of their punishment.