Arsenal win 'breathes life' into Swansea, says manager Carlos Carvalhal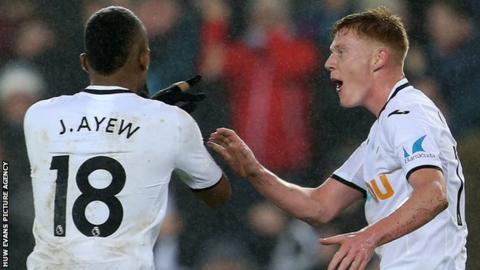 Manager Carlos Carvalhal says Swansea City are "breathing and we are not dead anymore", after they moved out of the Premier League relegation zone for the first time since November.
The Swans won back-to-back league games for the first time this season with Tuesday's shock 3-1 win over Arsenal.
"When I arrived at the club we were breathing like we were not well," Carvalhal said.
"But now after receiving some oxygen we come alive again."
After Nacho Monreal had put Arsenal ahead, Sam Clucas burst through the Gunners defence to equalise.
Jordan Ayew seized on a blunder by goalkeeper Petr Cech, to put the Swans ahead, then Clucas struck again to seal a win that was as unexpected as their previous Premier League scalp over Liverpool.
Carvalhal says the club are now daring to dream again.
"You know that the word I kept hearing in my first press conference was the word 'miracle'," he said.
"Now we are breathing and we are not dead anymore.
"Now we don't achieve anything, but we are in a good way to achieve a good position."
To the players goes the credit
Carvalhal is already on his way towards having a cult following with Swansea City fans, but he insists all the credit for their transformation goes to the players.
The Welsh club have lost only once in seven matches since the Portuguese took charge, but he says it is Swansea's players who deserve the plaudits.
"I think we prepared very well all game, but if the players don't believe in what we are doing then the result will be nothing, so all the credit goes to all my players," he said.
"We knew what will happen in this game, we knew and we talked about Arsenal, would be the team more with the ball, as they are against almost all the teams in the Premier League.
"The players did really, really fantastic. When we were attacking and lost the ball, the players worked really hard in the transitions.
"Like Tottenham and Liverpool, when you lose the ball Arsenal react very, very fast and they can in those situations score or create goal chances.
"I must give all the credit to my players, we scored three goals to win and are very happy with that.
"So far, the way the players are playing, the commitment that they show each other is really good. But at this moment we are still in a bad position."
Result 'could help' secure signings
Carvalhal is still hopeful of adding new signings before the transfer deadline closure at 11:00 GMT on 31 January.
The former Sheffield Wednesday manager believes Swansea's chances of adding significant new additions could be increased by recent results, having so far failed to sign a single player in January.
"I understand the market is very hard for us, we are doing the best we can to achieve good players," he said.
"I hope this victory will help with their decisions, because so far most don't want to come to Swansea. It is not because of good offers, or we are not trying, but the reality some do not want to come, some clubs are waiting on other players, so we must wait.
"We understand that. I will bring players to add to the team, to cover the gaps, if we don't achieve the players to cover the gaps, I trust these players. We are still waiting.
"Since the beginning I said we have some gaps, I do not change this.
"It is not to replace anybody, it is players to do specific things in the team we do not have.
"It does not mean we are weak, it means if we can have the players then we can jump to another level. Let's see if something happens and then I will answer all the questions."