Transfer deadline day: Fifa boss Gianni Infantino concerned by agents' fees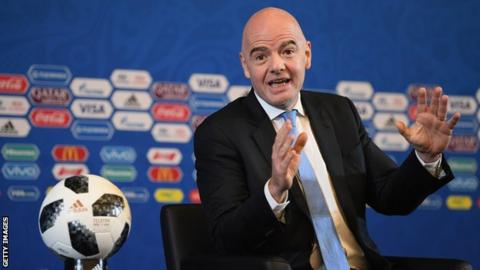 Fifa president Gianni Infantino says he is "very concerned" about the amount of money "flowing out of the football industry" in agents' fees.
Premier League sides spent a record £430m during the winter transfer window, including £150m on Wednesday - the final day.
England's top-flight teams paid a record £174m to agents for 2016-17.
"We have to tackle this issue, the curtains must be open," Infantino told BBC Sport.
"I am very concerned about the huge amount of money that is flowing out of the football industry."
Infantino added he was worried "commissions paid to intermediaries continue to rise" while the amount paid in compensation to clubs that have contributed to a transferred player's education and training falls.
"These increasingly larger transactions are often not done in a clean, open manner and raise a lot of questions about potential misuse of funds," he said.
According to Deloitte's Sports Business Group, the Premier League clubs' total spending for the 2017-18 season is an estimated £1.9bn, with the £430m outlay during January almost double the previous record of £225m.
English clubs paid a total of £220m to agents between February 2016 and January 2017 - a rise of 38% from £160m in the previous full-year results in 2014-15.
During that period, Premier League sides alone increased their spending on agents' fees from £130m to £174m.
Premier League total fees paid to agents
Year
Total spend (£m)
2012-13
96.7
2013-14
115.3
2014-15
129.9
2015-16
No figures available
2016-17
174
Infantino declined to comment directly on Premier League transfer spending but outlined some plans to help regulate agents in football.
"I want objective calculations and payments that all go through a central clearing house where both the intermediaries' commissions, transfer fees and training compensations are handled," he said.
"There is now a momentum, because more and more stakeholders realise that the situation is no longer sustainable.
"We have initiated a process with the main football stakeholders to review the transfer system and hopefully we can convince the confederations, the leagues, the players' unions and the clubs that this is the right way."