Stewart Regan: Timeline of SFA chief executive's tenure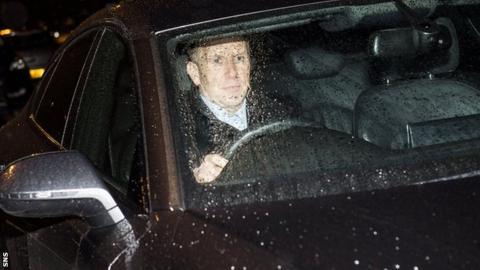 Scottish Football Association chief executive Stewart Regan stepped down on Thursday after seven-and-a-half years in the role.
Regan's reign as head of the governing body was marked by referee disputes, performance directors coming and going, failed qualifying campaigns, and a public failure to appoint a successor to Gordon Strachan as national coach, as well as continued uncertainty over whether Scotland will remain at Hampden.
BBC Scotland documents the highs and lows of his tenure.
28 July 2010 - Appointed SFA chief executive.
Oct 2010 - Launches inquiry into how referees are disciplined, after controversy over Dougie McDonald reversing a penalty award to Celtic.
Nov 2010 - Head of referee development Hugh Dallas sacked by SFA after being accused of sending a tasteless e-mail.
Nov 2010 - Scotland's top-flight referees go on strike after backlash from managers and fans over decisions. Regan oversees introduction of foreign referees to officiate in their place.
Early 2011 - Regan launches Respect campaign for referees.
June 2011 - Mark Wotte appointed SFA performance director to implement changes recommended by McLeish Report in 2010.
Feb 2012 - Rangers go into liquidation. SFA faces criticism over ease with which Craig Whyte was able to take control over Rangers with minimal scrutiny, a saga which led to the controversial 'five-way agreement' for Rangers to play in the third division.
Nov 2012 - Craig Levein sacked as Scotland manager due to "disappointing results", with team bottom of World Cup qualifying group. Regan says it was a 'unanimous decision'. Billy Stark appointed interim coach.
Jan 2013 - Gordon Strachan appointed new Scotland manager.
Oct 2014 - Mark Wotte resigns as performance director after clashing with clubs.
Feb 2015 - Brian McClair appointed as Wotte's replacement as performance director.
Oct 2015 - Scotland fail to reach Euro 2016. Manager Gordon Strachan awarded new two-year contract.
July 2016 - Brian McClair steps down as performance director, 15 months after taking the job, saying he is 'disappointed not to have made a significant difference'.
Dec 2016 - Malky McKay controversially appointed as SFA's third performance director in five years. Mackay was sacked as Cardiff boss following alleged racist and homophobic texts. Regan says Mackay was 'outstanding candidate' and had undergone diversity training.
Oct 2017 - Scotland fail to qualify for World Cup 2018.
12 Oct 2017 - Gordon Strachan does not have his contract renewed as Scotland manager.
22 Jan 2018 - Michael O'Neill, the SFA's preferred candidate, turns down chance to be Scotland's best-paid manager after talks with Regan. SFA accused of being 'naive' and an 'embarrassment'.
25 Jan 2018 - SFA criticised for arranging end-of-season friendlies in Peru and Mexico without consulting leading clubs.
30 Jan 2018 - SFA announces it will choose between Hampden and Murrayfield as home of Scottish football in summer.
1 Feb 2018 - Regan resigns as chief executive after SFA board meeting.