Stewart Regan Q&A: Was SFA chief forced out? What went wrong? Who might be next?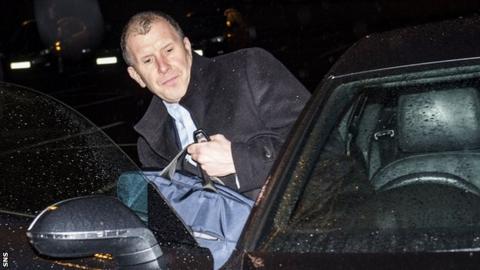 Stewart Regan said he had faced "challenging head winds" after stepping down as Scottish Football Association chief executive.
His failure to secure Michael O'Neill as national coach, the controversy over Scotland's end-of-season friendlies in South America, the uncertainty over Hampden's future and the lack of a sponsor to replace Vauxhall have all been cited as reasons for his departure.
Former Scotland internationals Michael Stewart (MS) and Steven Thompson (ST), former Scotland assistant coach Peter Houston (PH) and BBC Scotland chief football reporter Chris McLaughlin (CM) analysed his departure on BBC Sportsound.
Q: Was it the right time to go?
MS: "There's an element of surprise with the timing but when you add up all the recent incidents and everything else that's gone on during the eight years of his tenure, then I think he's recognised that it's time for a bit of freshness, revitalisation of the organisation. It's lacking leadership desperately at senior level and I think now, perhaps even before, is a time for change."
Q: So did he jump or was he pushed?
CM: "Make absolutely no mistake, Stewart Regan was forced out by his board. It was a scheduled board meeting but he knew he was going to be facing criticism, and knew this could be it.
"The meeting started at 9.30a.m. and there was instantly a frank exchange of views. It became very clear, very quickly, that Regan didn't have the backing of his board. The meeting lasted well into the afternoon but Regan was only there for a short time. The statement says it is a resignation but he knows he had no choice. The recent problems gave those on the board the chance to force him out, because he was forced out in the end."
Q: Was failing to secure Michael O'Neill the key factor?
ST: "It was the final nail in the coffin. It should have been done in a different way. If you are a big organisation like the SFA, you sound out people and have an idea about what is going to happen before it becomes public. Regan should have sounded out his agent and tried to get an answer before having any meeting with O'Neill.
"After O'Neill had turned it down, Regan needed to show strong leadership and come out and say, 'I have got a list of other possible candidates, good candidates, and I will make an appointment within a week'. But he didn't have a plan, he didn't have a next move. He basically ran out of ideas."
MS: Stewart was the big driver in going for Michael O'Neill and Michael O'Neill alone, and I think that was proven to be a poor tactic. Whether you think he was the right appointment or not, the tactic to solely focus on one person was a poor negotiating position to take, and I think that proved to be a big factor."
Q: Anything else he got wrong?
PH: "One thing that sticks with me is seeing him on the pitch at Pittodrie having a word with [SFA performance director] Malky Mackay, telling him he wasn't being considered [for the Scotland job on a permanent basis, after taking charge of last November's friendly against Netherlands].
"It was very awkward. There is a way of going about things and a time to tell someone. The media caught hold of that, and once you become really unpopular with the media, there is only one outcome.
"Announcing the trip to Peru and Mexico - that was an absolute shambles, without consultation with the most important people - the biggest clubs."
Q: Were there any positives to his reign?
MS: "There were positives - the pyramid system is a positive for the teams at the lower end and the junior leagues to give them access to the professional leagues. And the creation of an independent judicial panel, to get away from the idea that the SFA were sweeping things under carpet.
"But on the big decisions, the fans feel they haven't been handled right or dealt with properly. There won't be many people thinking Stewart should be staying in his position."
Q: Will his exit affect the appointment of a new manager?
MS: "You'd expect they will want to get [a new chief executive] in place before they appoint a manager, and a manager himself would want them in place too as they would work closely together.
"To me it suggests we won't have a manager in place for the friendlies [against Costa Rica and Hungary] in March, and even looking at these controversial summer friendlies in South America, there's a good chance they might not have a manager in place for them. It's going to take time to get the right chief executive in place and then look for the right manager."
Q: So who might replace him as chief executive?
CM: Hibs chief executive Leeann Dempster is someone who is very well respected in the game. She is no nonsense and very good, and has been around Scottish football long enough to know how it operates. I suspect she will be a leading candidate, but whether she wants the job, I don't know.
"Neil Doncaster [chief executive of the Scottish Professional Football League] has been around a long time. Might he jump down the corridor? It is all about the money. Neil Doncaster has been bringing the money into Scottish football - just ask the clubs. He might be an unpopular appointment with the fans, but for the clubs, it is all about the cash."
ST: "I would be surprised if anyone wanted to take the job."