Jack Hendry: Celtic deal done too late for Neil McCann's liking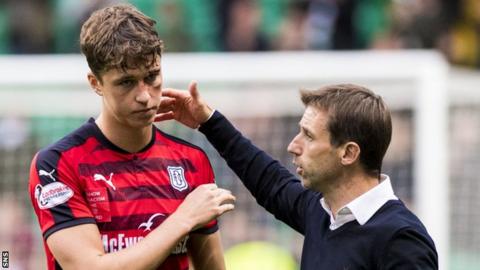 Neil McCann has expressed his frustration at Celtic for leaving their bid to sign Dundee's Jack Hendry to the last minute on transfer deadline day.
Scot Hendry, 22, joined Celtic after Dundee received a record fee in excess of £1.2m for the centre-back.
"The disappointing thing for me was how late Celtic left it," boss McCann said.
"It left me no time whatsoever to get any business done. I'm not in a position here at Dundee Football Club financially to bring in a centre-back."
January was McCann's first experience of the winter transfer window and he conceded he is not a fan.
With Dundee involved in a triangular deal involving players from Hibernian and Celtic, McCann said they were in control but he explained it was extremely difficult to pull deals together with games on elsewhere on the same evening.
As well as Hendry, Dundee goalkeeper Scott Bain, who had recently been loaned to Hibernian, was sent on loan to Celtic instead.
Meanwhile, Celtic midfielder Scott Allan, who had been on loan at Dundee, moved to Hibernian on loan on Wednesday - the day after scoring his first Dundee goal - and Hibs forward Simon Murray joined McCann's side on loan for the rest of the season.
"I wanted to keep Jack," McCann said. "That is black and white. I'm desperate to keep Jack but I'm mindful of the fact that should Celtic come in with the right offer that the club can't turn down, then I have to have someone ready to come in and bolster the squad.
"I wasn't allowed to do that. I can't sign a player at one minute to twelve.
"We did [hold control]. We owned three players. We owned Jack Hendry, we owned Scott Allan to the end of the season and we owned Scott Bain till the end of the season. But it had to work in order to get the triangle to work for us to get Simon Murray, who was owned by Hibs. But we held a lot of the aces.
"I didn't enjoy it one bit. The only piece of business I enjoyed was getting Simon Murray in the door. I wouldn't have let Scott go and I wouldn't have let Jack go if it hadn't been right for the club. But I felt at that time and [chief executive] John [Nelms] financially felt for that type of player it was right."
'I need to prove it was a mistake to put me out on loan'
Murray, meanwhile, says he was disappointed and surprised that Hibernian boss Neil Lennon allowed him to go out on loan.
But the former Dundee United striker, having joined the club he supported as a boy, is aiming to score the goals that will lift the Dens Park club up the Premiership table.
"I was surprised actually," explained Murray, who has scored 14 goals this season, second only to Celtic's Scott Sinclair in Scotland.
"I was a bit disappointed but maybe they had the chance to get Scott Allan in who is obviously a different position from me and they [Hibs] had just brought in a couple of strikers. That's the way it's panned out.
"I need to prove to my own club that it was a mistake to put me out on loan.
"I used to come to the Dundee games with my mates and family when I was growing up so it is a good fit for me."