Ahmad challenges Cameroon to address 2019 'shortfall'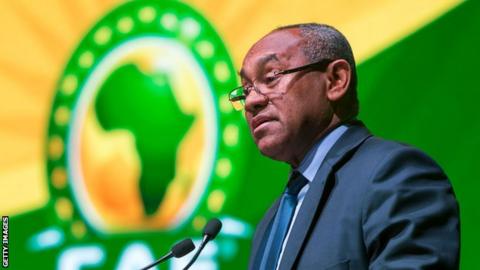 The Confederation of African Football (Caf) president, Ahmad, has again challenged Cameroon to ensure everything is in place for the country to host the 2019 Africa Cup of Nations.
It was the first time he had commented on next year's Nations Cup since business consultancy company Roland Berger conducted an inspection of Cameroon's facilities in January.
"There is still a shortfall between the report (from the recent inspection visit) and the requirements we have set out," said Ahmad.
"It is now up to Cameroon to make up this shortfall as far as possible, that is all I can tell you," he added.
Ahmad was speaking on Friday after Caf's 40th General Assembly, held in Casablanca where the African Nations Championship (CHAN) final will be staged on Sunday.
There have been concerns about Cameroon's preparations to host the 2019 Nations Cup ever since Ahmad said last August that the country would "have work to convince" African football's rulers that it was ready.
Following the recent inspection, Ahmad insisted that Caf will do all it can to ensure that its showpiece event is a success.
"You should know that I am a man who keeps his word and my board will not change one iota of the decisions taken with regard to the proposed resolutions.
"This is what the footballing community wants from a better Nations Cup - the stadiums, the pitches, hospitals, road infrastructure, airports, and hotels - those are our current requirements.
"You can consult our requirements (known in French as a cahier de charges) - I think we can even put it up on the website if need be to be transparent.
"We will see what happens for CAN 2019," Ahmad said.