Hearts 1-0 St Johnstone: Tommy Wright fumes at referee Andrew Dallas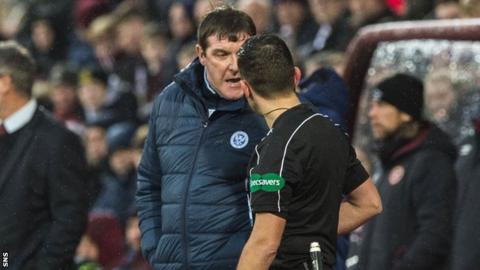 St Johnstone manager Tommy Wright believes referee Andrew Dallas was wrong to send David Wotherspoon off during their 1-0 defeat to Hearts.
David Milinkovic struck the winner just after half-time in a match in which St Johnstone had numerous chances.
Wright admitted his side should have taken those opportunities, but accused referee Dallas of a 'ridiculous' decision.
"Same old, same old with that same referee," Wright told BBC Scotland.
"I have been [disappointed] most of the times I've had him.
"I have probably spoken to [SFA Head of Referee Operations] John Fleming more about Andrew Dallas more than any referee. Nothing seems to change."
Wright believed his side responded well to that setback and remained dominant in the match after the decision.
"Even when we went down to 10 men we created more chances than Hearts throughout the game," he said. "We totally dominated.
"We went to sleep for five seconds at the back post and cost ourselves the game.
"That's compounded by a ridiculous second yellow for David Wotherspoon. In fact, the foul should go the other way.
"We come here and totally dominate and should win the game. That's down to us for not taking our chances and some excellent goalkeeping.
"Anybody at the game, anybody that's reported at the game would know there's only one team deserved to win it."
Hearts manager Craig Levein agreed that the visitors had the better of the opening period, but argued that his side improved.
"St Johnstone were slightly better than us in the first half and then we were better than them in the second," he said.
"They ask questions of your centre backs. They turned us, they put the ball in high, they threw long throws into the box.
"These are all legitimate ways of winning matches and you've got to deal with them."
Levein's side earned a ninth clean sheet in their last 11 matches, with the manager impressed at how his centre backs and goalkeeper Jon McLaughlin coped with St Johnstone's tactics.
McLaughlin is out of contract at the end of the season with Levein reluctant to give up on retaining him beyond that
"We're trying our best. The door is still open for him to stay," he explained.
"He's had a lot of decent offers from down south, which is much more money than we can afford to pay but you never know."