Former Scotland manager Craig Brown questions friendlies, if no manager in place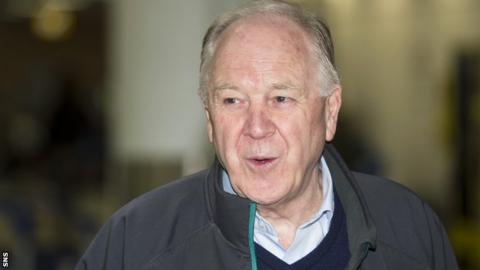 Former Scotland manager Craig Brown thinks forthcoming international friendlies would be better cancelled unless a team boss has been appointed.
Scotland are due to face Costa Rica at home on 23 March and travel to face Hungary four days later.
They then travel to face Peru on 29 May and Mexico on 2 June.
"I don't think the friendlies would be very beneficial unless the manager who is going to take the team is in charge," Brown told BBC Scotland.
"The manager could be in waiting and have a look at the games."
The Scottish FA was left to think again about a new manager after Northern Ireland's Michael O'Neill rejected an approach and that was followed by Stewart Regan resigning last week as the governing body's chief executive.
The end-of-season friendlies against two sides preparing for this summer's World Cup finals have been criticised by Celtic manager Brendan Rodgers, who points out that his players have a short summer break because of next season's European qualifiers.
"The games are not at a good time anyway, they are not at good venues either and I totally agree with Brendan Rodgers when he disagrees with the fixtures," Brown said.
"These are meaningless fixtures. If you get a new manager in place, he'll want some games, but I don't think he'll want to go to Peru."
SFA performance director Malky Mackay, who was in caretaker charge for the friendly against Netherlands, and national under-21 coach Scot Gemmill have both emerged as candidates for the senior team, but Brown is backing a former Scotland manager to return.
"I think now Malky Mackay would come into contention because Stewart Regan ruled him out and he was understandably quite bitter about that," he said.
"He took it very well, he handled the team very well and the performance was first class against Holland and therefore he must be contention for the job.
"He would be one of my candidates, but I would go to Walter Smith right away and ask him if he would take the job.
"There's a guy with 21 trophies and he managed Scotland successfully.
"I would tell him 'keep your collar and tie on' and get a young coach with you. I've no objection to Scot Gemmill.
"There's also Alex McLeish - the most statistically successful Scottish manager.
"Ten games in charge and he's won seven of them. Now that is quite exceptional."
Former Aberdeen manager Brown is hopeful that the SFA does not make an approach for current Pittodrie boss Derek McInnes and chief executive Duncan Fraser.
He is also not as enthusiastic about Hibernian chief executive Leeann Dempster, who he worked under at Motherwell.
"Please don't come for our manager or chief executive," he said. "I'm working at Aberdeen, I'm on the board there and the last thing I want is for our chief executive or manager to go to Scotland, because both are outstanding candidates for the positions.
"Leeann Dempster's a nice lady, I'm not saying she is not for the job as she's done a good job at Hibernian, but I found Leeann Dempster difficult to deal with."