Nadir Ciftci: On-loan Celtic striker 'forgot how to celebrate' Motherwell goal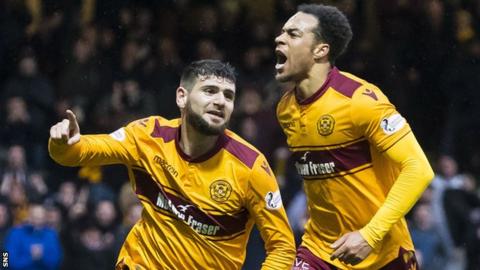 Nadir Ciftci admits it was so long since his last goal that he had forgotten how to celebrate scoring for Motherwell against Partick Thistle.
It was the on-loan Celtic striker's first since finding the net while with Eskisehirspor in May 2016.
"It's been such a long time, I didn't know what to do," the 25-year-old Turk told BBC Scotland.
"I have mixed feelings. It is great to score a goal, but I think we deserved more than a point."
Since his last goal, Celtic's £1.5m signing from Dundee United has played in the Turkish top flight, for Pogan Szczecin in Poland's Ekstraklasa then started this season on loan to Plymouth Argyle in English League One.
But he was more concerned about Motherwell missing out on three points in their 1-1 draw at home to Partick Thistle than his own equaliser.
"It was enjoyable obviously, but you couldn't enjoy too much because you want to win the game," he said after his fifth Well appearance.
"For me to be on the end of that ball is obviously great, but it was more important for me to get the three points.
"It didn't happen, so we just need to kick on from here and go to the next game."
Ciftci signed a four-year contract when joining Celtic in 2015 and, if he still believes he can break into the Scottish champions' first-team, he was keeping those thoughts to himself.
"Let me give everything I have in my pocket, score some goals and try to help the club achieve what they want to achieve then we can see what happens at the end of the season," he said.
Ciftci's season-long loan with Plymouth was cut short after a disappointing first half of the season in England's third tier, but he is pleased at the way he and fellow striker Curtis Main, who arrived from Portsmouth, have settled at Fir Park.
"So far so good," he said. "The boys, like I've said many times, have been really great trying to settle me and the other boys who came in.
"If you look at Curtis, he got three goals in three games.
"The boys settling so quick says a lot about the fans, about the club, about the structure, the boys in the team. I'm really happy to be here."
Motherwell slip to seventh after being held at home by a side who started the day second from bottom of the Premiership and Ciftci did not wish to make any bold predictions about finishing in the top six.
"We just have to take every game step by step," he added.
"I think the boys were terrific against Thistle and I think we created enough chances to get the win."