Jon Moss: Referee 'misguided' in Tottenham penalty decision at Liverpool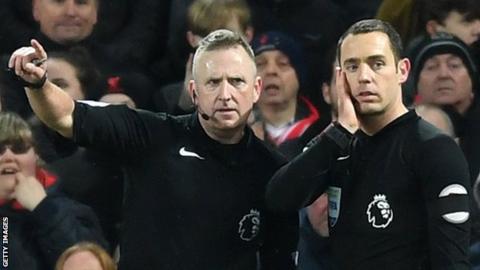 Referee Jon Moss was "misguided" to ask the fourth official for help using television when awarding Tottenham's first penalty at Liverpool on Sunday, the Professional Game Match Officials Limited (PGMOL) says.
Moss made the request to Martin Atkinson via his headset after Harry Kane had been brought down by Reds keeper Loris Karius - with the referee trying to clarify if the Spurs striker was offside.
Video assistant referee (VAR) was not in operation at Anfield.
"For the avoidance of doubt, Atkinson did not view a television monitor and did not relay any information to the on-field officials," PGMOL said in a statement.
Moss has been confirmed to officiate at Everton's home match against Crystal Palace in the Premier League on Saturday.
PGMOL said he was right to give the spot-kick - which was missed - and was correct in recognising that Kane was not offside because Liverpool defender Dejan Lovren had deliberately played the ball in the run-up to the incident.
After initially awarding the penalty, Moss spoke with assistant referee Eddie Smart to clarify if Kane had been offside.
Moss was seen on camera asking Atkinson if there was "anything from TV" showing if Lovren had touched the ball, before sticking to his decision without receiving a response.
Kane's effort was saved by Karius, though the England forward made no mistake when Tottenham were given a second penalty - also awarded after consultation with Smart - in the dying seconds of the game to score his 100th Premier League goal and secure a 2-2 draw.
"Jon Moss was in a good position to see that a Liverpool player deliberately played the ball before it fell to Harry Kane in the penalty area. He then correctly judged that Kane was fouled by Loris Karius," the statement said.
"However, given the speed of the attack he was uncertain of the identity of the Liverpool player who kicked the ball.
"Eddie Smart, having identified that Kane was in an offside position, correctly sought clarification on whether Dejan Lovren had deliberately played the ball.
"In real time this was a difficult series of decisions which the match officials judged correctly."
Klopp's fury
Liverpool boss Jurgen Klopp was incensed after Kane's last-gasp penalty earned Spurs a point, saying he would have to pay "the biggest fine in world football" if he vented his true feelings.
Klopp was angry Moss punished Virgil van Dijk's challenge on substitute Erik Lamela with a spot-kick that ended up being almost the final kick of the Premier League match.
"There were some real challenges in the first half, lots of moments when it could have been a free-kick - but the referee said 'today that's the game, that's allowed' and then the softest touch in the whole game decides the game," he said.
"It is not a penalty, it is a situation. I am angry but I can't change things so what's my job? To create headlines? To get punished? To pay a fine? If I said what I think I would pay the biggest fine in world football. That makes absolutely no sense."
Liverpool were also furious at the first penalty award, with new signing Van Dijk accusing Kane of diving.
"You see him diving clearly and no-one is talking about it but I think it is a dive," said the Netherlands centre-back.
"There is a lot of discussion about whether it is offside, yes or no, but I think it was offside as well."
Kane has since refuted the claim, saying he "felt contact".
"I'm not going to jump out of the way because it's football," added the 24-year-old.
Analysis
Richard Conway, BBC Radio 5 live sports news correspondent
PGMOL has taken this unusual step of issuing a statement in a bid to clarify the penalty award to Tottenham.
The merits of the decisions will be debated and argued over by fans and pundits for weeks to come. How exactly should "deliberately played the ball" be interpreted when judging offside? And was there sufficient contact between Liverpool's Karius and Harry Kane to warrant a spot-kick?
What remains inexplicable is Jon Moss asking fourth official Martin Atkinson "have you got anything from TV" when trying to clear up if Dejan Lovren had played the ball on its path through to Kane.
For the avoidance of doubt, any such move to officiate via a TV replay would be against the laws of the game.
The VAR system is currently on trial in certain competitions - but not the Premier League. Furthermore, crudely viewing a touchline monitor is a far cry from the sophisticated system and protocols that have been used in the FA Cup and Carabao Cup this season. Asking for guidance from a TV broadcast is wrong - and refs know this.
We're told by PGMOL that Atkinson didn't reply to Moss's request, that he didn't view a TV monitor and did not relay any information to the on-field officials.
But the question hangs in the air - why would referee Jon Moss ask his touchline assistant such a thing in the first place?