League Cup semi-final: Ballymena United v Cliftonville called off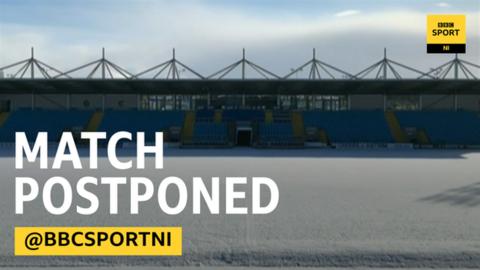 The League Cup semi-final between Ballymena United and Cliftonville at the Showgrounds has been postponed because of freezing weather conditions.
The match was called off just before 18:00 GMT after match referee Keith Kennedy carried out a pitch inspection.
The playing surface had been deemed playable after a mid-afternoon inspection by another referee.
A new date for the game has yet to be revealed, but the final is scheduled to take place on Saturday 17 February.
Dungannon Swifts await the winners of the tie in the Windsor Park decider.
This is the third time that the match has been postponed.
The tie was originally scheduled for 12 December but fell victim of the freezing conditions and was called off for the same reason on the second scheduled date on 16 January.
"It's extremely frustrating and extremely disappointing but referee Keith Kennedy made absolutely the right decision," said Ballymena manager David Jeffrey.
"Certainly there is no way the pitch is playable and the referee owes a duty of care to the players. It was just too dangerous.
"We were drawn out of the hat first and any suggestion that this would be taken away from Ballymena is totally and utterly wrong."
Cliftonville boss Barry Gray commented: "Common sense tells me this was never going to be played tonight.
"The call could have been made today in the early afternoon and would have saved the cost and the impact to both teams."