Rangers' Jason Holt proud to wear armband and shoulder responsibility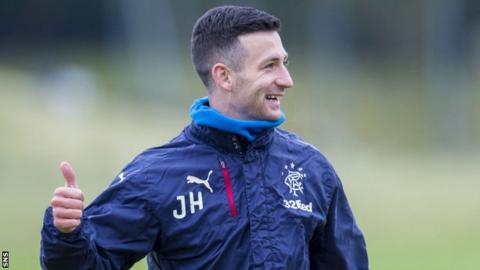 Jason Holt hopes to take his first taste of defeat as Rangers captain in his stride and help his side return to winning ways against Partick Thistle.
The midfielder, 24, is the latest to wear the armband after injuries to Lee Wallace and Kenny Miller.
But Rangers slipped up 2-1 at home to Hibernian on Saturday.
"You go through the good times and that's all well, but you need to ride the tough times," he said. "That's part and parcel of leading the boys out."
Holt has been captain for four games in a row, but it is uncertain if he will continue in the role with veteran Scotland striker Miller fit and back in the squad to face Partick Thistle on Tuesday.
"I was obviously really happy to get the armband and very proud to lead the boys out," said the midfielder ahead of Tuesday's Glasgow derby at Firhill.
"For as long as I'm in that position, I'll try to do my best.
"You need to make sure everyone's is up for it on the park and reacting in the right way and that's the job of being captain."
Portugal defender Bruno Alves is another injury absentee who has worn the armband this season and manager Graeme Murty is pleased that others have taken responsibility.
"I think it's an opportunity for lots of people to lead and we have some young people in the team," he said.
"But one of the youngest, Ross McCrorie, is a fantastic leader and he's only growing into the role.
"So we have experienced players who want to take a step forward and lead, which can be beneficial, but if they're not there, someone else has to do it.
"It can be beneficial for the growth of the squad that people have to step up when those people are not there.
"I've seen that within the squad and the more people you can get to do it, the more people you can get to lead, the better it is going to be for the whole squad."
Murty was also pleased with how his squad had responded to Saturday's set-back.
"A big part of leadership is accountability," he added. "You have to put your hand up and say when things have gone well and when things have gone badly or mistakes have been made.
"Not in an effort to apportion blame or make people feel bad but in order to improve - and that's the atmosphere and culture that I want.
"I want people here who are accountable in order to be the very best we can be.
"For 10 seconds after we equalised on Saturday, we weren't the best we can be, but people were accountable for it and put their hands up to say they had made mistakes.
"That's how you get better. That's how you learn. That's how you grow together as a squad."