Seven teams capable of finish sixth - Motherwell's Lasley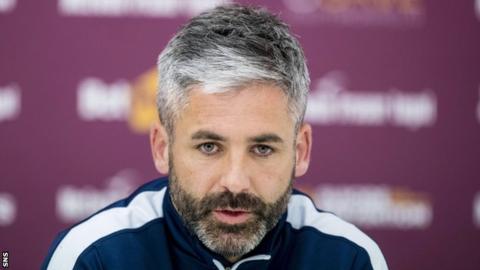 Motherwell assistant manager Keith Lasley believes Scottish football has one of its most competitive Premiership campaigns this season.
The Fir Park side are edged into the bottom six by a single goal at present.
And Lasley, 38, feels the final spot in the top six could be won by any of the seven teams below fifth-placed Hearts.
"We can certainly compete for that last top-six place, that has to be our aim now," said Lasley before Tuesday's home match against St Johnstone.
"Our next game is St Johnstone tomorrow and then, in the league, Kilmarnock, so we know this is an important period for us.
"I think there is a gap between the top five and the rest, but in this division I've played enough in it to know that the margins are so fine.
"It can come down to a set play or one lapse in concentration that makes the difference. We feel that we can be one of the teams challenging for that sixth position."
With only nine points separating Kilmarnock in sixth from Ross County in 12th, Lasley agrees that anyone could finish anywhere in what he thinks will become a scramble to make the top half of the table before the league splits after 33 games.
"Absolutely," he said. "All the teams, from sixth right down to the team at the bottom, will have ambitions to finish in the top half of the table.
"We know how quickly things can change in this division. There will be a lot of proverbial 'six-pointers' coming up over the next few weeks. We've got one tomorrow night against St Johnstone."
Lasley, who retired from playing at the end of last season after two playing spells at Well, also praised the contribution so far of Celtic's on-loan striker Nadir Ciftci.
He feels the Turk "has hit the ground running" with two assists and a goal in his first three appearances for the Fir Park side.
Lasley believes there is much more to come from Ciftci and, despite the transfer window closing, he reiterated that the club is still looking to add to their squad "if we can" by bringing in out-of-contract players.