Northern Ireland to play Republic of Ireland in Dublin friendly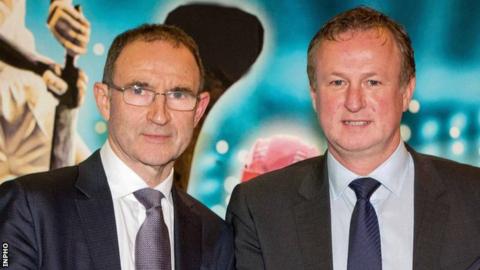 Northern Ireland are to play the Republic of Ireland in a friendly match at the Aviva Stadium in Dublin on Thursday, 15 November.
It will be the first game between the two countries since May 2011.
It will also be the first time that Michael O'Neill and Martin O'Neill have met as rival international managers.
The match will be used by both teams to prepare for their final round of Uefa Nations League Group B matches the following weekend.
Northern Ireland host Austria at Windsor Park on Sunday 18 November, while the Republic of Ireland face Denmark on 19 November.
Northern Ireland manager O'Neill said: "Uefa have made it mandatory that we play a friendly on that date and when we looked at the options across Europe, travelling to Dublin to play the Republic of Ireland made a lot of sense.
"It means that we can stay on the island for the week, train in our usual environment and play a game that will be a good test for us ahead of the Austria match.
"Both countries qualified for Euro 2016 and both narrowly missed out on qualification for Russia, so it will be an evenly matched and hard-fought contest.
"From a personal point of view I am looking forward to managing a team against Martin, a manager who I hugely respect and admire.
"Qualification for Euro 2020 is our number one priority now and with the Uefa Nations League a potential route to the tournament, this game means that we will be as prepared as possible for the Austria match."
Northern Ireland were drawn with Bosnia and Herzegovina and Austria for the inaugural Uefa Nations League, while the Republic were grouped with Denmark and Wales.
The sides last faced each other in Dublin seven years ago, when a double from Robbie Keane helped to secure a 5-0 Carling Nations Cup win for the Republic.
The Football Association of Ireland have also revealed that Martin O'Neill's side will return to Poland to take on their former Euro 2016 qualifier opponents on 11 September.