EFL Trophy: Lincoln City boss Danny Cowley hopes to take 'unique' opportunity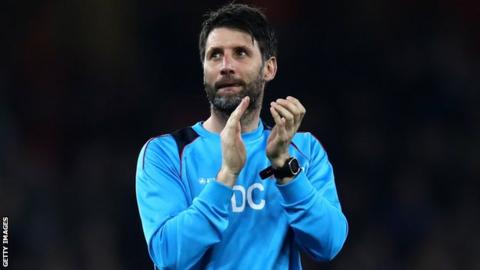 Lincoln City boss Danny Cowley says he hopes to take a "unique opportunity" against Chelsea's under-21 side in the EFL Trophy semi-final on Tuesday.
Chelsea are the first development side to reach the last four since the competition's launch last season.
The Imps, beaten by Arsenal in the FA Cup quarter-finals last season, are hoping for a first Wembley appearance in the club's 133-year history.
"We understand that this might be our last opportunity," Cowley said.
"You never know what football's going to bring so I think we have to play with that reality, we have to keep it really close to us and we have to use it to drive us."
The 39-year-old also said he does not feel pressure to beat Chelsea after supporters of some clubs opted to boycott the competition in response to the inclusion of development teams.
"I don't see it as pressure, I see it as a unique opportunity," he told BBC Radio Lincolnshire.
"We're respectful of Chelsea, they've done fantastically, they're the only under-21 team still in the competition."
'Pain will inspire Imps'
Lincoln were twice a game away from reaching Wembley last season, with their defeat at the Emirates Stadium followed by a loss to eventual winners York City over two legs in the FA Trophy semi-final.
"That FA Trophy game, I still feel the pain of that. I still wake up in the middle of the night thinking about that," Cowley said.
"For all the success we had last year, I still think about that. You keep the pain close, because it drives you and it inspires you.
"We're going to have to be inspired - if we're going to win, we're going to have to play better than we ever have and then some."
Lincoln need a 12th man
After struggling with low attendances in the first season of the revamped EFL Trophy, the competition has enjoyed a substantial increase in support, with average round-by-round attendances up 31% compared to last season.
Cowley's team have consistently had some of the highest gates in the competition, entertaining the largest turnout of fans at both knockout stages to date.
"We can't make it easy because if it's 11 v 11 we're going to find it tough," he said.
"We're going to need all the fans, we're going to need their contribution, we've got to crank it up some more.
"They are a very good team with real rhythm and flow but if we have a gameplan that just tries to stop them, we'll lose because you're not going to be able to stop their quality.
"What we've got to do is try to disrupt them, give them problems and see if the problems we give them can affect the real choreographed dance they run game in game out."