Edusport Academy eyes Premiership place by 2025 under web-based fan membership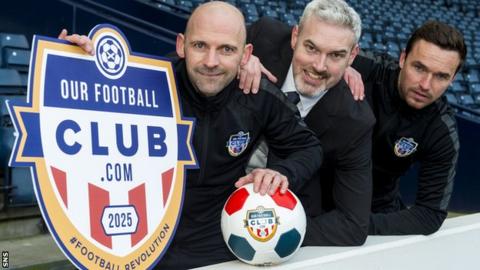 Lowland League club Edusport Academy have targeted a place in the Scottish Premiership by 2025 as they launch a £25-per-year online membership scheme.
Owner Chris Ewing is following the example of Ebbsfleet United, who were taken over in 2007 by fans raising £700,000 through the same website.
Through OurFootballClub.com, members will have a say in the new set-up.
"It is a viable model if we can get enough members to sign up," the ex-Motherwell and Stranraer striker said.
"This is an online project and you can touch the whole of the world.
"The dream I have is to have members from France, from Scotland, from England, from Finland, from Holland all pulling together.
"Of course, to get to the Premiership by 2025 is ambitious and some people would say it is a crazy statement, but I think crazy is doing the same thing year in year out and expecting different results."
Ewing, who has a masters degree in international sports management from the Johan Cruyff Institute, founded his academy in 2011 to help young French footballers develop their skills while gaining an English language education.
Three years later, its team was accepted into the semi-professional South of Scotland League and won promotion last year to the Lowland League - Scotland's fifth tier and one below the Scottish Professional Football League.
"The Edusport Academy will continue to exist as a football academy and we also have a rugby academy and we are looking to launch a dance academy," Ewing, 39, told BBC Scotland.
"But, with the actual football club itself, which has SFA membership and plays in the Lowland League, we're trying to create an online community that can pay a fee of £25 to join as members and they will have a decision-making and voting powers to influence the running of the club.
"It is a new concept here in Scotland. It has never been done before.
"The idea is to give fans a unique way not only to support a football club but to be involved in it in a day-to-day basis.
"I think Scottish football needs something new and innovative."
Ewing says Edusport will not be identical to Ebbsfleet, who before 2007 were called Gravesend & Northfleet. They were bought by Kuwaiti investors in 2013 and presently play in the National League - England's fifth tier.
"We're completely different in that we are a brand new football club," he said.
"We have no history, we have no fan base and we have carte blanche to create a brand new football club that meets the needs of the supporters.
"Ebbsfleet had a fan base. We have no fans at this stage and we are looking to create a fan base through an online community.
"Ebbsfleet offered the opportunity for members to pick the team, but that is certainly something we will never do.
"Members can put together names of players who they can identify, a bit like Football Manager, but certainly it's not fantasy football."
Edusport fans will also be able to choose a new name for the club, as well as their colours and crest.
The team, which has former Airdrie United and Clyde midfielder Ricky Waddell as head coach and former Scotland midfielder Colin Cameron as his assistant, sit 11th of 16 teams in their league and presently share Galabank Stadium with Dumfries and Galloway-based League Two outfit Annan Athletic.
However, with his academy players attending colleges in Glasgow and Edinburgh, Ewing is hoping to secure a permanent home in the coming months, likely to be in central Scotland.