Caf president Ahmad backs CHAN future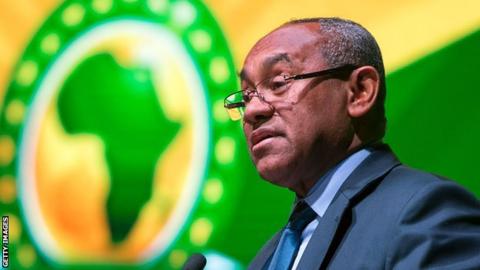 The head of the Confederation of African Football (Caf), Ahmad, says he does not see the need for major changes to the format of the African Nations Championship (CHAN).
The Caf president said that the CHAN - a tournament for home-based African players only - already has a great legacy and that the confederation plans to continue with it.
"It'd be nonsense to cancel the CHAN, because many people appreciate the competition, even those from other continents," Ahmad told the BBC.
"We will continue it, and as you know the next one is in Ethiopia in 2020.
"Everyone, from the fans, the stakeholders, the teams, the organising committee - they are all very happy with the competition," the Caf president insisted.
Ahmad also said the confusion surrounding players' transfers should be looked into.
During the recent tournament in Morocco, which was won by the hosts, it was not clear whether two of Morocco's key players would be able to compete in the final, having secured transfers to overseas clubs.
Ahmad added that he did not see any problem if African-based players made a deal with foreign clubs during future CHAN competitions.
"If the player has a licence in his country and signs a contract, what's wrong with that?
"Why would you want to stand in the way for an African youth's chance to go for the big teams and make money for themselves and their family?
"There are regulations about these types of things, but with such regulations, you also have to think, not just read them," said Ahmad.