Dorus de Vries: Game time boosts Celtic goalkeeper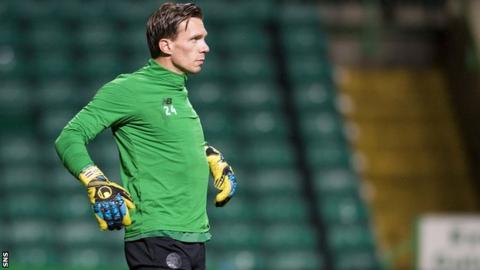 Celtic goalkeeper Dorus de Vries admits he did consider his future after being understudy to Craig Gordon for the majority of his time at the club.
However, the Dutchman believes he "has everything" being at the Scottish Premiership leaders.
De Vries, 37, has played in Celtic's past three games with Gordon having sustained a knee injury.
"You're always thinking about possibilities," the former ADO Den Haag and Nottingham Forest goalkeeper said.
"For players, playing is the most important thing. That counts for me as a goalkeeper, of course, as well.
"In saying so, I'm really happy here. I've got everything here in terms of the staff, the players, the whole set-up, the club in itself is a great club to be involved in, so for me I'm really, really happy to be here.
"Of course, you're looking for game time. It's great being playing. That's what you train for.
"It's unfortunate for Craig with the longer-term injury. It's time for me now to step up and show what I can do."
With Gordon not expected back until April, De Vries is in line to tend goal for Celtic's Europa League last-32 tie against Zenit St Petersburg this month.
The Russian side visit Celtic Park on 15 February, with the return leg the following Thursday.
De Vries' only previous European appearance for Celtic was a 7-0 Champions League group stage defeat by Barcelona last season.
"It was a disappointing night in terms of the result and as a goalkeeper, it's really hard to take on board that you conceded goals," said De Vries.
"Even if you concede one, it's always hard to take on as a goalkeeper because you don't want to concede any goals, simple as.
"That team on the night, they were up there as one of the best teams in the world, if not the best team in the world and everything just went for them. They were different class and that's what happens sometimes.
"It's still a sore spot in terms of I hate losing. I can't stand it. It doesn't matter whether it's Barcelona or Partick Thistle, you want to win, simple.
"I'm getting into my rhythm now, I'm getting into my flow in terms of playing with the players in front of me, getting a better and better understanding, recognising game scenarios, all that kind of stuff. With that comes confidence and rhythm. I'm getting there."