NI League Cup: Semi-final 'farce' angers Cliftonville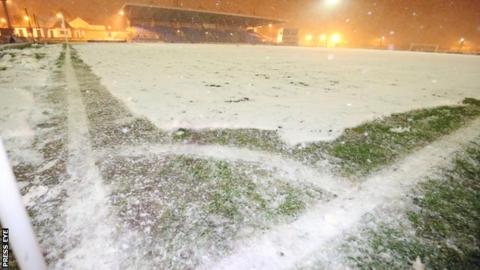 Cliftonville have described the events surrounding the latest postponement of their League Cup semi-final against Ballymena United as "farcical".
Reds chairman Gerard Lawlor called for an investigation after Tuesday's match was called off less than two hours before kick-off.
The game was cancelled because of freezing conditions, which left the Showgrounds pitch covered in snow.
It is the third time that the cup tie has been postponed.
"There is a committee that runs this [tournament] and they must be accountable and there has to be serious questions answered," said Lawlor.
"I think the events can only really be described as a farce."
Lawlor later adopts more conciliatory tone
Speaking later on Wednesday following a meeting between the two clubs and the Northern Ireland Football League, Lawlor struck a more conciliatory tone.
"I feel a productive meeting today took place between both clubs and NIFL," he said on social media.
"Hopefully a resolution for the semi-final can be found for the good of the game.
"Some issues still to sort but hopefully [there will be] an agreement from all parties and an announcement as soon as possible."
The playing surface was initially deemed to be playable following a mid-afternoon inspection but the game was postponed just before 18:00 GMT after referee Keith Kennedy had checked the pitch.
"Nobody expected the referee who inspected the pitch today to pass it playable and we thought it was absolutely farcical," added Lawlor.
"We have ended up tonight with both teams arriving at the Showgrounds, we had a team that had gone for a pre-match meal, had prepared for a game, the supporters' buses have to be paid for and it is just a shame.
"An investigation now needs to be held by NIFL into the events that took place."
Game originally scheduled for 12 December
The tie, originally scheduled for 12 December, has now fallen victim to freezing conditions on all three occasions.
A new date for the game has yet to be announced, but the final is scheduled to take place on Saturday 17 February with Dungannon Swifts awaiting the winners of the tie in the Windsor Park showpiece.
Ballymena manager David Jeffrey has already insisted that the rescheduled game should be held at the Showgrounds, saying that taking home advantage away from his side would be "totally and utterly wrong".
Cliftonville say they had lodged a proposal with NIFL to move the game to Solitude or a neutral venue to ensure the fixture went ahead on Tuesday but that was rejected.
"This is no fault of Ballymena's, the weather is what it is and there's no way that Ballymena can control what is going on," added Lawlor.
"There is a willingness from Cliftonville to play the game before Saturday to try and get it cleared up and try as a member club of Northern Ireland Football League to do what's right for local football and get this game played and the final on schedule."