Hartlepool United: Police to investigate alleged financial irregularities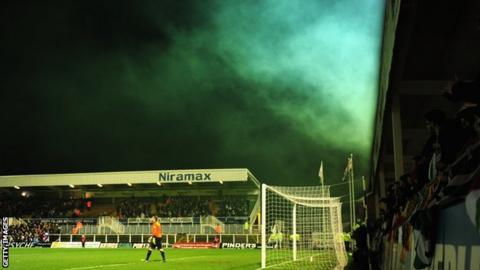 Police are to investigate allegations of financial irregularities at National League club Hartlepool United.
In a statement, Pools said the police responded "to a request by the club" and no-one currently involved with them is the subject of investigation.
Meanwhile, HMRC have issued a fourth winding-up petition against Hartlepool in 18 months over an unpaid tax bill.
"The club has been in contact with HMRC and have confirmed the liability due will be settled in full," they added.
The funds to repay the debt were donated by supporters in response to the club's financial issues last month.
HMRC's decision to issue a petition had given Pools until Wednesday, 21 March to pay a sum in the region of £48,000 or risk being wound up at the High Court.
Hartlepool recently urged individuals potentially interested in investing in the club to join together to form a consortium, in the hope it could lead to new ownership.
Local businessman Chris Musgrave pulled out of a deal to buy the club last month, after he was allowed to review the club's finances.
After losing their Football League place after 96 years with relegation last season, the current campaign has also been a disappointing one for Hartlepool.
They are currently 18th in the table, just four points clear of the relegation places.