Old Firm colts: Celtic and Rangers proposal rejected by Stenhousemuir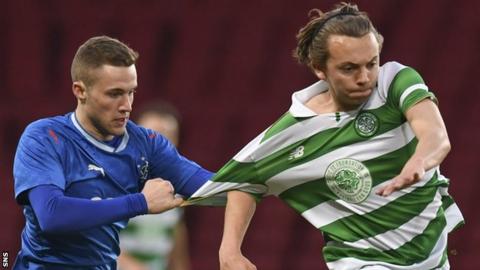 Stenhousemuir have joined League Two rivals Annan Athletic in announcing their opposition to Celtic and Rangers colt teams joining their division.
Annan chairman Philip Jones last month issued a statement saying his board were "not minded to support" the idea.
Now Stenny say they too oppose the proposal as their supporters "were unanimously against".
The Glasgow clubs had been looking to raise support for a two-year pilot to be put to a vote this spring.
"We are disappointed that this colt teams proposal has been proposed and presented by Rangers and Celtic FC and not by the Scottish FA," Stenhousemuir said on their website.
"A proposal of this nature should have been presented as part of an overall plan for improving the transition of our youth talent from 17-20 year olds via a proposal from the SFA.
"We agree that some new methodology has to be found to improve the game in Scotland and, as a club, we would be pleased to be consulted on how we may play our part - eg an enhanced loan system.
"We are concerned that, after the two-year pilot, we had no assurances as to where this may go afterwards in terms of the fundamental principles or, indeed, the number of clubs involved."
Old Firm under-20 sides have played in the Scottish Challenge Cup for the last two seasons and Celtic and Rangers would like them to now join the league structure, without being allowed to win promotion or suffer relegation.
They had proposed that their colt teams would play all their matches away from home and guarantee the purchase of 250 tickets per match at £10 per head to the other 10 clubs.
Stenny, along with League Two rivals Berwick Rangers and Elgin City, announced last month that they were to consult their fans.
Warriors say that, as a result of a lack of enthusiasm from supporters, they fear Old Firm claims of a potential increase in income for the other clubs was optimistic.
"This led us to believe that the £2,500 per match could be lost over the other matches by supporters who decide not to attend our matches as a result," they stated.
Peterhead have yet to state their official position, but manager Jim McInally has publicly voiced his opposition to the proposal.
Although Berwick have yet to announce the result of their own consultation, the Wee Rangers had given the proposal a guarded welcome as they thought the 10-team division had become stale.
However, they warned that, while the other 10 Premiership clubs were supportive of the Old Firm proposal, a substantial majority of the Scottish Professional Football League's 42 clubs would be required for it to go ahead.