Tammy Abraham: Harry Kane's loan history 'gives me confidence'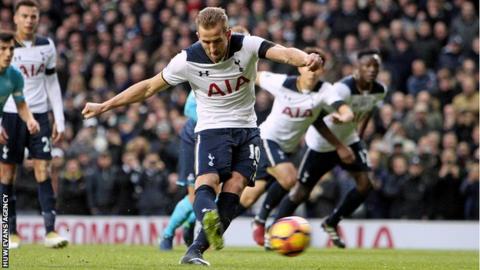 Tammy Abraham says he hopes to force his way back into the England team by following a similar path to Harry Kane.
Abraham is on loan at Swansea City from Chelsea after a successful season with Championship side Bristol City.
"I have to keep proving myself and that's what I am willing to do," said the 20-year-old.
Kane, who scored his 100th Premier League goal on Sunday, had several spells out on loan before finally flourishing at Tottenham.
England first-choice striker Kane spent time on loan at Leyton Orient, Millwall, Norwich and Leicester at the start of his career.
Just five years ago, the Tottenham striker made a substitute appearance in Leicester's dramatic Championship play-off semi-final defeat by Watford at Vicarage Road.
Last season, Abraham spent a season in the Championship at Bristol City where he scored 26 goals in 48 games in all competitions, earning him a step up to the Premier League.
After scoring five goals in 10 games for Swansea earlier in this campaign, Abraham failed to score a league goal in November and December and has not made a Premier League appearance in 2018.
After finding his goal-scoring form with a brace in Tuesday's 8-1 FA Cup victory over Notts County, the Chelsea loanee hopes he can learn from the likes of Kane and challenge for a place in the England squad.
"He [Kane] is a player I have always looked up to and he is one of the greatest strikers," said Abraham.
"It gives me confidence that there is a light at the end of every tunnel, so it encourages me to keep pushing and try my best."
A World Cup call-up?
Abraham's two England caps came in friendlies against Brazil and Germany, and the forward is hoping a return to form could see him recalled for the 2018 World Cup in Russia.
The 20-year-old said England manager Gareth Southgate spoke to him after his friendly appearances and gave him some advice for the future.
"After the two games he [Southgate] said, 'It is going to be tough at Swansea, because of the [league] position you are in,'" Abraham said.
"He said just go there and work as hard as you can, believe in yourself and hopefully get the team out of the mess [they are in]."
Swansea have since lifted themselves out of the relegation zone thanks to an astonishing change of fortunes under new manager Carlos Carvalhal.
However, with fellow Swans striker Wilfried Bony ruled out for the rest of the season, Abraham looks set to feature more prominently once again.
"It's a sad injury, but sometimes these things happen and it gives you the chance to step up," he said.
"As I got injured the boys were giving good performances, so it was always going to be difficult to get back into the team.
"It [not scoring] has an effect because it plays on your mind, all the best players in the world have that, but it does have an impact on performances.
"I just have to stay focused and keep believing in myself and hope chances come."
And Abraham hopes if he takes his chances he could break back into the England team ahead of friendlies against Holland and Italy in March.
He said: "I would obviously love to go to the World Cup, I have to keep proving myself and that's what I am willing to do."
More footsteps to follow
As well as Kane, one man who will be travelling to Russia for the World Cup if fit is Cristiano Ronaldo.
Earlier in the week Carvalhal urged Abraham to also follow in the Portuguese talisman's footsteps as well if he is to achieve his potential.
In response to his manager's advice, Abraham said: "I am the kind of bubbly person like he [Ronaldo] is and I always want to work hard and do my best.
"I feel like I have built different aspects of my game, not just scoring goals. I have been through the ugly side of football as well, so I think I have grown as a person and in maturity.
"I went through the same spell with Bristol City last season when we were nearly relegated, but for me, there has been more tension here, you could feel it more, and it was tough. Hopefully we can push on now."