League Cup semi-final between Ballymena United and Cliftonville now on Saturday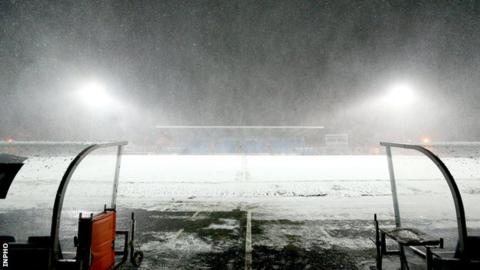 The three-times postponed League Cup semi-final between Ballymena United and Cliftonville will be played at the Ballymena Showgrounds on Saturday.
Both clubs' scheduled Premiership games have been postponed to facilitate the staging of the semi-final.
With the final on 17 February, the Northern Ireland Football League's room for manoeuvre was limited.
Cliftonville were angered by the late postponement of the semi-final on Tuesday evening.
After the Showgrounds pitch was declared playable by a senior referee at 14:30 GMT on Tuesday afternoon, the game was postponed at 17:45 following the arrival of the match referee.
Cliftonville chairman Gerard Lawlor described Tuesday's events as a "farce" although who rowed back on those comments following what he described as a "productive" meeting with Ballymena and NIFL officials on Wednesday.
In a social media post on Wednesday, Lawlor added:""Hopefully a resolution for the semi-final can be found for the good of the game."
An NIFL statement said that it "regretted the the inconvenience caused by Tuesday's late postponement for club officials, players and supporters".
Ballymena were scheduled to host Ballinamallard United in the Premiership on Saturday with Cliftonville down to visit Warrenpoint Town.
The game at Warrenpoint has been rescheduled for Tuesday, 13 February with a date yet to be confirmed for Ballymena's contest with Ballinamallard.
Dungannon Swifts will face the winners of Saturday's semi-final in the decider on 17 February.
If Cliftonville lose the League Cup semi-final, their Premiership game against Linfield scheduled for Friday, 16 February will be moved back to 17 February to give them more recovery time from their encounter with Warrenpoint.
Warrenpoint's game at Carrick Rangers scheduled for Friday, 16 February has also been put back to the Saturday for the same reason.
REARRANGED FIXTURES
Saturday, 10 February - 15:00 GMT
BetMcLean League Cup semi-final
Ballymena United
v
Cliftonville
Tuesday, 13 February - 19:45
Danske Bank Premiership
Warrenpoint Town
v
Cliftonville
Saturday, 17 February
Premiership
Carrick Rangers
v
Warrenpoint Town
Cliftonville
v
Linfield *
* game to take place if Cliftonville lose League Cup semi-final
Premiership - date to be confirmed
Ballymena United
v
Ballinamallard United