Steven Naismith: Hearts striker 'never considered Kilmarnock return because of pitch'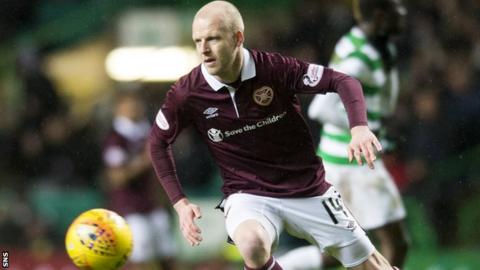 On-loan Hearts striker Steven Naismith said he ruled out a move back to his first club Kilmarnock because of the artificial pitch at Rugby Park.
Naismith, 31, opted to move to Tynecastle from parent club Norwich until the end of the season.
Kilmarnock were also interested in their former player, but the surface at Rugby Park proved a barrier.
"The biggest thing was the AstroTurf, for a player of my age, with the injuries I have had," Naismith said.
"As much as I appreciate Kilmarnock for what they did for me when I was younger, that is something I would never consider.
"I have spoken to [Kilmarnock boss] Steve Clarke on and off over the years at certain times in my career. He has said, tongue in cheek, 'I would love to get you back' and things like that.
"But I never seriously considered it, solely because of the AstroTurf. For me, every club in Scottish football should play on grass.
"I couldn't train on AstroTurf every day. My second game for Hearts was at Hamilton [who have an artificial pitch at their New Douglas Park home].
"For a couple of days afterwards, it is not great for your body, especially as you get older. Youngsters might be used to it, but you can't tell me for the long term it is good for you."
Twelve of Scotland's 42 Scottish Professional Football League clubs use artificial pitches, including Kilmarnock and Hamilton in the Premiership.
Hearts host Kilmarnock on 27 February, three days after Naismith returns to another former club, Rangers, where he won three league titles during a five-year spell from 2007 to 2012.
Naismith says "there wasn't contact as such" from Ibrox last month, amid reported interest from Rangers in bringing him back.
"Clubs will say, 'yes we are interested, but it is maybe not something we want to do straightaway, we need to wait and see'," he told BBC Scotland's Sportsound.
"I would probably put it in that bracket. But nothing ever came of it. When Hearts came in, they showed their hand and said to Norwich, 'this is what we want to do, this is what we can offer'.
"They wanted to hear back, with some deadlines, so I had some decisions to make. At that moment, I thought Hearts was definitely the best opportunity for me. Since I have been there, it has been fantastic."