Kenneth Zohore: Cardiff striker will benefit from Madine signing, says Warnock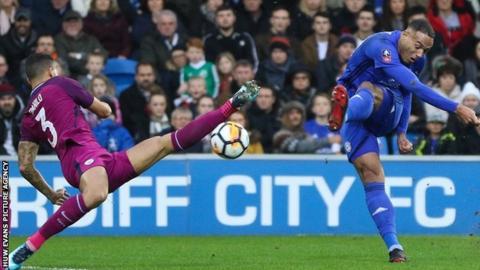 Cardiff City boss Neil Warnock says the signing of Gary Madine can revitalise fellow striker Kenneth Zohore.
Zohore, who was the Bluebirds' top scorer last season, was linked with a move to Premier League side Brighton earlier this term.
He has scored only four goals in an injury-hampered campaign and Madine - a £6m signing from Bolton - started ahead of Zohore's in Saturday's win at Leeds.
"Madine coming in will help him [Zohore]," said Warnock.
"He can have a breather, have a look at the situation and I think it'll be easier for him now.
"One thing I'm sure of, if we are to get into the play-offs we'll need Ken Zohore between now and the end of the season.
"He's been carrying us, so a little less focus on him will help him and he can respond.
"We had £10-£12m interest but I feel a bit sorry for him, because as a team we didn't play so well, didn't create enough chances, we never gave him the opportunities, so rather than be relaxed when he got those opportunities he snatched at one or two, but there's signs of him coming back into it."
Having been top of the Championship table earlier this season, Cardiff are now in fourth place, three points behind Derby in the second automatic promotion spot but with a game in hand.
The Bluebirds visit 14th-placed Millwall on Friday and, although Warnock believes Zohore and Madine could play up front together, he is expected to choose between the two at the New Den.
"Psychologically, when you know you're the only striker - as he [Zohore] was when Danny Ward got injured - it's difficult to maintain the levels you set," Warnock added.
"I think you'll see a different Ken now when he comes back in. I think he needed the help. I think players have appreciated the new competition from Gary [Madine], Wardy [Jamie Ward] and [Armand] Traore.
"I've told the players, there'll be times when they won't be involved in the squad, but they're all in involved in this challenge if we are to get into the play-offs."