Tommy Wright: St Johnstone not feeling pressure of poor form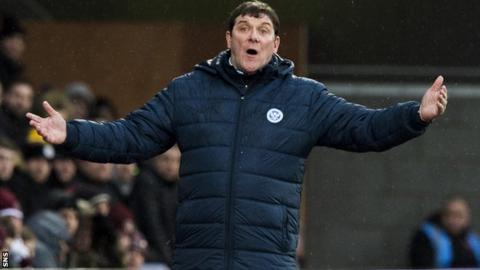 St Johnstone manager Tommy Wright says the squad is not feeling the strain of a recent run of poor form.
The Perth side have not won in the Premiership since defeating Rangers at Ibrox in mid-December, and are only six points clear of bottom club Ross County.
"Are we feeling under any pressure? I would have to say no," Wright said.
"But ultimately a (relegation) play-off place could be something to be concerned about."
St Johnstone are eighth in the table, having lost four league games in a row.
The Perth side has always finished in the top six since Wright took over as manager in June 2013, and although he does not rule out maintaining that run, he wants his players to focus on recovering their form rather than long-term targets.
"Where we have let ourselves down this season has been when we have been under pressure and had adversity in games," Wright said.
"In the past we have dealt with it and come through games and got the other side of it and maybe sneaked a goal. But we haven't done that this year.
"They've had to deal with a level of criticism and at times it's been justified. That's maybe been a problem for one or two of them, but I know there is enough quality in the squad. We've underperformed, and I take responsibility for that as well.
"We have still got a lot of games. I've told them to forget about top six and concentrate and try to put a run together and believe it or not top six is still not out of our reach.
"We have games in hand but ultimately we have got to start winning games. If we start winning games the picture begins to look a lot rosier.
"This season we haven't put too many 90 minute performances together, we're making too many mistakes. We've changed the shape top try to help, we're working hard in training, but we're making individual errors. That has been the story of our season so far."