Andrew McKinlay: SFA stand-in chief to leave to take charge of Scottish Golf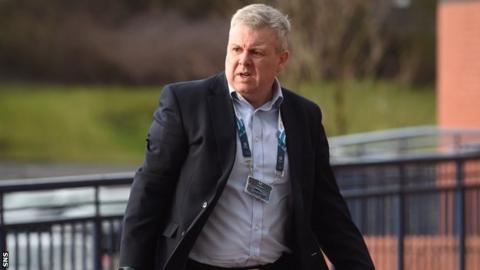 Scottish FA interim chief executive Andrew McKinlay is to leave the governing body in May to become chief executive of Scottish Golf.
McKinlay is the governing body's senior executive after Stewart Regan left his role as chief executive.
McKinlay succeeds Blane Dodds, who left Scottish Golf last October to take over as Tennis Scotland chief executive.
He was previously the SFA's director of governance, before becoming chief operating officer.
"I realise a lot of hard work has been undertaken already to increase participation and accessibility to golf," McKinlay said.
"Having attended December's Future of Golf conference in Edinburgh, I believe the passion and collective will throughout the membership gives us a terrific foundation on which to build a bright future for our game."
McKinlay has spent six years at the SFA and will take up his new role in May.
The SGU is currently wrestling with declining memberships, and Dodds launched a proposal to raise an additional £4m in revenue through increasing annual fees accrued from club memberships and introducing a new international tax for overseas visitors playing in Scotland.
A vote among golf clubs and members was scheduled to take place last December, but following Dodds' resignation a national conference was held to debate the issues, with the SGU facing a potential budget cut of £400,000.
"We were particularly impressed by [McKinlay's] range of responsibilities in football, especially in overseeing football's equality and diversity strategy at all levels of the game," said Eleanor Cannon, Scottish Golf chair.
"Increasing girls' and women's participation is a priority focus area for Scottish Golf and his expertise will be vital to our future growth strategy."
The SFA are currently searching for a new chief executive, as well as a new national team manager, and Partick Thistle manager Alan Archibald said that his club's managing director, and current SFA board member, Ian Maxwell would be a good fit for the role.
"I've got a great relationship with him because he's played the game and he's a good buffer between myself and the board," Archibald said.
"He explains a lot of the football decisions and why we make them. It really helps having a football guy there, somebody who's played the game.
"He knows most of football inside out so he wouldn't be the worst candidate."