Scottish Cup: Brora Rangers aim to upset Kilmarnock and create history
By Amy MacBeath
BBC Sport Scotland
Last updated on .From the section Scottish Cup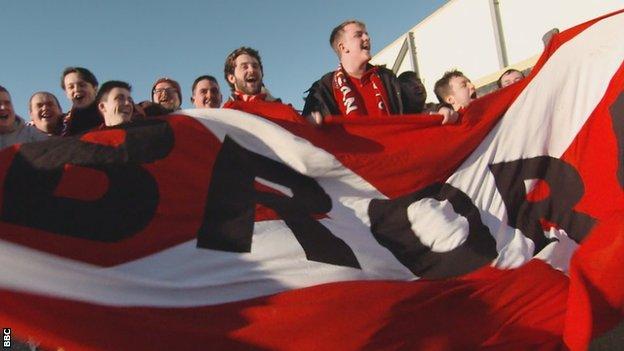 Brora Rangers are still riding the euphoria of their Scottish Cup progress as they prepare to face Kilmarnock on Saturday.
The part-time Highland League side already made club history when they downed League One East Fife to go where no Cattachs side had gone before - the last 16 of the competition.
Now the team from the north-east coastal village in Sutherland, who have already amassed around 2,000 miles in their cup adventure, are plotting a Premiership-sized upset.
And Brora striker Steven Mackay says their experience so far has strengthened their collective resolve.
"It's been phenomenal," he told BBC Scotland. "It's galvanised the team and the whole community.
"Everybody's talked about the long distances the team has travelled. But it's actually brought us all closer together; we've thoroughly enjoyed it and don't want it to end."
The romance of this historic football competition is alive and well in the village, where the two-time Highland League champions' flag flies high above Dudgeon Park.
While those who will face Steve Clarke's professional outfit excitedly gear up for their Ayrshire jaunt, those who have gone before remain in shock.
"It's huge, unbelievable, unspeakable to be honest with you," admits James Ross, who now sits on the Brora Rangers committee and whose son, also James, will play at Rugby Park.
"The furthest we've made it is Dundee in the third round back in the 1980s, but this is just beyond words - we're still pinching ourselves."
Ross points out that Brora have not conceded a goal in the Cup so far and scored 12 - sweeping aside both Girvan FC and Civil Service Strollers 5-0, before defeating League One sides Stranraer and East Fife 1-0 on the road.
Now they face yet a fourth successive away trip to an in-form Kilmarnock, who beat Celtic last weekend.
"It's still incredible what's going on to be honest," added Ross, who sums up the David versus Goliath sentiment on everyone's lips. Do they have a chance? "Yes and no," he answers. "The heart says, 'yes' and head says, 'no'."
Brora and fellow Highland League side Cove Rangers - who host Falkirk - are both looking to add to their historic runs and become the first to make it to the quarter-finals.
As the plumbers and commercial project managers watched Kilmarnock become one of the few to defeat the Scottish champions this season, the height of their already tall order rose.
But in their manager, they have someone who is no stranger to a good old-fashioned cup shock.
Eighteen years ago, almost to the day, a 19-year-old Ross Tokely helped the then First Division Inverness Caledonian Thistle to a famous cup win.
The defender, now 38, helped dump Celtic out of the Scottish Cup, creating their own slice of Scottish football history and the classic newspaper headline 'Super Caley Go Ballistic Celtic Are Atrocious'.
"I've had some great results over the years," he said. "I try to put some of the memories into the boys, as the underdog tag I've had so many times has paid dividends.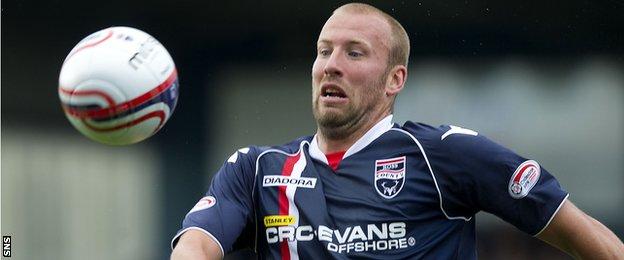 "It's a bit of a blur, really; it wasn't until maybe a few days later I realised how much it meant to the team and Inverness as a city.
"I still talk about it today and bore a lot of people but it still means a lot to me and my family that we won that night. I take a lot from that experience but now it's about making our own history."
His players already juggle full-time jobs and families. Most live in Inverness. Two even come from Orkney to play Saturday fixtures.
And Tokely believes it is this commitment that makes the team so successful.
"We've made it a round further than I thought we'd get - the chairman asked me to get the team into the Scottish Cup round after Christmas and here we are in February," he explained.
"There's no pressure on us, no fear in us either. I'm not saying we're going to get a result [at Kilmarnock] but we'll make it as tough as possible for them."
While the east Sutherland village is home to about 1,300 at the last official count, its streets are likely to be pretty quiet come game day.
The club believe up to 600 supporters could make the near 500-mile round trek to Rugby Park to back their side.
But this is nothing new to a team who regularly travel to the likes of Inverurie (151 miles) and Fraserburgh (153 miles) for league games.
As Mackay puts it, it's the "life of a part-time footballer" and not at all alien to them.
"We're all used to it, but Saturday is a different occasion for us," said the 36-year-old.
"The pressure has to be [on Kilmarnock]. They are the Premiership team, everyone will expect them to win and nobody outside Brora will expect us to do anything.
"There's no pressure on us whatsoever so it's an opportunity to go and express ourselves."
One thing the Brora side are assured of this weekend - win, draw or lose, there will be plenty expressing themselves as they party their way back to the Highlands.