Scott Brown: Brendan Rodgers says Craig Levein 'obsessed' with Celtic captain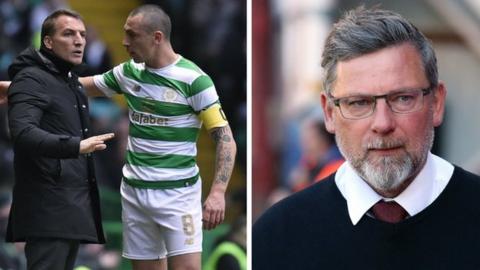 Celtic manager Brendan Rodgers has accused Craig Levein of being obsessed with his captain Scott Brown.
Hearts boss Levein suggested Brown got booked in the loss to Kilmarnock in order to serve a ban before next month's Old Firm derby.
Levein has also voiced concern over Brown's combative style following an injury sustained by Harry Cochrane.
Rodgers responded: "He's a wee bit obsessed with Broony, isn't he? I think it's a huge compliment for Broony..."
Brown blamed his caution in last weekend's defeat at Rugby Park on Levein's comments about players needing more protection from the midfielder.
"If Scott didn't get booked against Kilmarnock and got booked against St Johnstone [on 18 February] then he'd miss the Rangers game," Levein said.
"I'll leave that to you to deduce."
Levein also expressed concerns about the Celtic captain after Cochrane suffering a bruised collarbone following a challenge from Brown during Celtic's 3-1 win in January.
Responding to his Hearts counterpart, Rodgers said: "I think it's a huge compliment for Broony that Craig keeps talking about him - especially as we don't play them for a little while.
"Broony is a very competitive player... there's nothing really to answer on that."