Northern Ireland women's players demand meeting with Irish FA over pay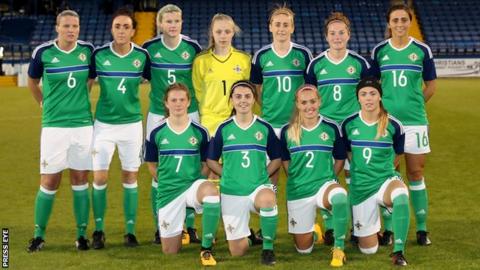 Northern Ireland women's players are demanding a meeting with the Irish FA over a plea for adequate pay to cover the expense of playing internationals.
The Siptu trade union, which is representing a number of the players, has written to the IFA for a third time asking for a meeting over the issue.
Siptu's Denis Hynes says the NI women's players are being left out of pocket.
"Players are regularly being left in a position where they are unable to afford the loss in earnings," he said.
"This results in players withdrawing and a lack of consistency in squads which in turn is undermining the ability of the team to qualify for major tournaments."
In response to Siptu's comments, the Irish FA said that they would be keen to meet the players.
"In recent weeks we have been made aware of issues raised by some members of our senior women's international squad," said the IFA statement.
"We have requested a meeting with the players and believe that these issues can be resolved quickly with direct dialogue."
Republic team's campaign for improved conditions
The call for a meeting with IFA chiefs follows a successful campaign last year by the Republic of Ireland women's team, backed by Siptu, for better pay for loss of earnings and better conditions.
Siptu says it has written three times in recent weeks to the IFA's chief executive Patrick Nelson asking for a meeting.
"Despite assurances that IFA officials would meet with the members of the team so they could outline their concerns and discuss possible strategies to resolve them, this has not occurred," Mr Hynes said.
"While there has been some improvement concerning issues related to the preparation of the squad for international games, our members' central concern, the lack of adequate compensation while on international duty, has not been addressed."
NI women 55th in world rankings
Mr Hynes said the women want the issue resolved swiftly and amicably.
"Our members wish to have this situation resolved without any disruption to their preparation for or participation in international games," he said.
"These players take great pride in playing for Northern Ireland at international level and believe that a fair resolution of the issues that concern them will benefit the long-term future of their sport."
Northern Ireland, who are 55th in the Fifa women's world rankings, have played three matches in their current World Cup qualifying campaign.
After opening defeats by Norway and the Republic of Ireland, they defeated Slovakia last November to earn their first win of the campaign.
The Northern Ireland women's next qualifier is away to European champions the Netherlands on 6 April.